Pukekohe pair marry on rugby field in what could be the most Kiwi wedding ever!
Publish Date

Thursday, 1 March 2018, 12:30PM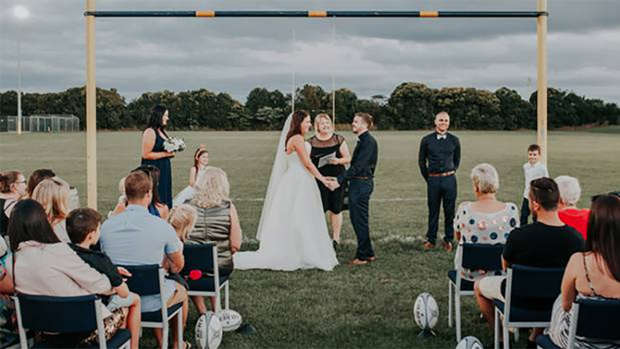 It doesn't get much more quintessentially Kiwi than a day spent on the local rugby field and a feed of sausage rolls and mini pies in the club room afterwards.
And for one Kiwi couple, saying "I do" under the "ready-made archway" of the goal posts at Patumahoe Rugby Club was the perfect way to get married in what was a surprise ceremony surrounded by family and friends.
Pukekohe couple Brad and Megan Healy, who met at high school, worked together at a local restaurant and were eventually drawn together romantically, had guests thinking they'd been invited to the local rugby club for an engagement party.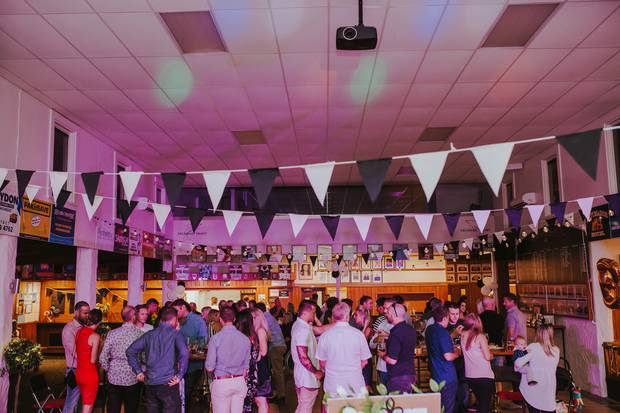 Family and friends were told they were attending an engagement party at the local rugby club. Photo / Charlotte Christian Photography
But during the celebrations, 28-year-old Megan disappeared.
"I snuck out to get changed," she told the Herald of her swift slip into a wedding dress. "My dad announced the engagement party was cancelled and they were actually at our wedding.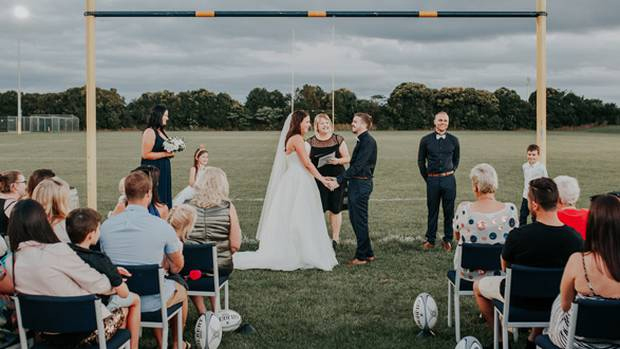 Brad and Megan surprised their family and friends by saying "I do" under the goal posts on their local rugby field. Photo / Charlotte Christian Photography
"Everyone was then escorted out to the rugby fields where the ceremony was set up under the posts. The aisle was lined with Gilbert rugby balls on kicking tees."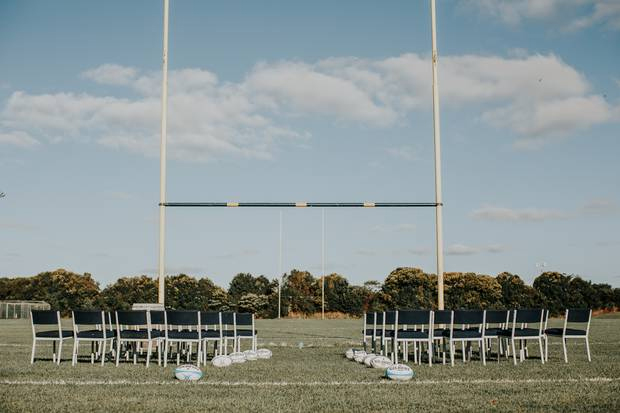 The couple loves the "ready-made arch" at the rugby fields. Photo / Charlotte Christian Photography
It was the perfect setting for rugby coach and former player Brad, 29, and his now wife Megan, who says rugby is "a passion we share. I'm at every one of his games and love nothing more than to support him.
"So when we were looking for wedding locations we wanted something local and unique for our ceremony and [to] show our personalities.
"We saw the beauty in the big, open green fields, the ready-made archway - goal posts - for the nuptials and the rugby lights to let us have the sunset ceremony we wanted. So we chose our local rugby grounds where we spend most [of] our weekends."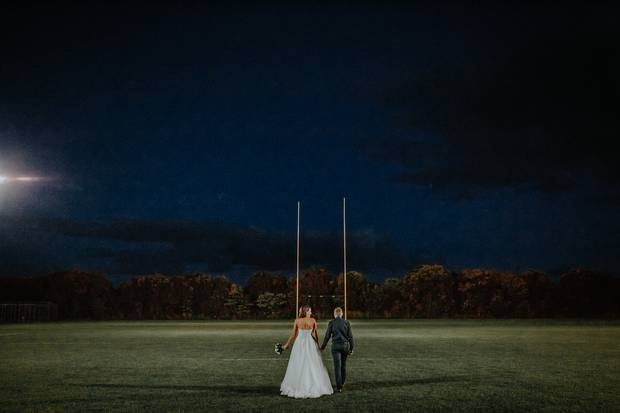 A sunset wedding was Megan and Brad's dream. Photo / Charlotte Christian Photography
The couple's three children, aged two, eight, and nine, also played a part taking on the roles of bridesmaid and groomsmen for the sunset ceremony.
And the reception was every bit as Kiwi as the ceremony with rugby club staff serving up mini savoury pies, club sandwiches, a roast, salads, and sausage rolls - because, as Megan says: "Who doesn't love a sausage roll?"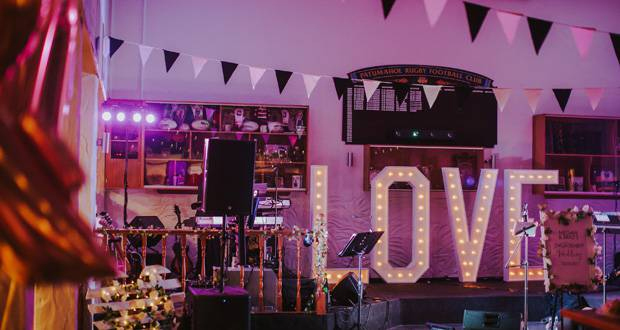 The club room was transformed for the celebration. Photo / Charlotte Christian Photography
Cost was important to the couple who said they would prefer to spend their money on their children rather than a lavish wedding. So the pair got creative, managing to pull off the entire day for just $10,000.
The couple's end goal was to wed in a way that felt like them, was stress-free but still made a big impact, and Megan felt they kicked it out of the park.
"Everyone was so surprised and it was such a fun, light-hearted night filled with dancing laughter and pure love. Just what we wanted."
This article was first published on NZ Herald and is republished here with permission.