The parents guide to the school holidays
Publish Date

Saturday, 1 July 2017, 11:18AM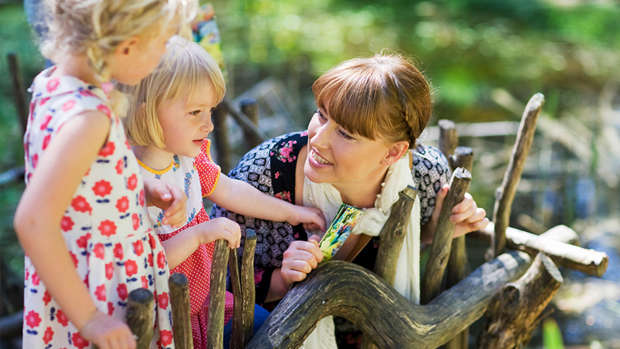 School holidays are just a week away. Here are some ideas for letting kids - and you - tap into a little of that inner wildness, writes Sarah Ell.
WILD LIFE
For a special opportunity to get up close and personal with some of the world's most unusual and beautiful animals visit Auckland Museum to see the world-renowned Wildlife Photographer of the Year exhibition, on loan from the Natural History Museum in London. Featuring 100 images, portraying animal behaviour to wild landscapes, the exhibition is not only visually spectacular but brings attention to the vulnerability of life on our planet.
Alongside the exhibition, there is an interactive activity: kids can create their own creature in the Design Studio, using animal templates and texture stamps.
During the holidays, the museum is screening classic episodes of Sir David Attenborough's early Zoo Quest TV adventures, filmed in the 1950s. A recent discovery in the BBC's film vaults showed the series was filmed in colour despite being broadcast in black and white, and this new presentation also shows how this pioneering television series was made. The Discovery Trail, which usually runs in the Weird & Wonderful at weekends only, will be held every day of the holidays, at 11am and 2pm.
For wild animals in the flesh, Auckland Zoo is encouraging kids to "become an animal champion" these holidays, learning more about conservation work with the elephant, kiwi, tuatara, tiger or giraffe.
Interactive activities include a smell station in the kiwi hut, investigating tuatara burrows to guess which eggs will be girls or boys, and measuring up against elephants and giraffes.
The zoo is offering a Galapagos tortoise experience, as well as its other paid animal experiences, where visitors can get close to these gentle giants, feed them and learn more about conservation efforts on their home islands.
The conservation message will also be to the fore at Sea Life Kelly Tarlton's, where young visitors will be encouraged to become Animal Planet Rangers, following an interactive trail to collect clues and learn about marine animals.
GO WILD OUTDOORS
Chances are it won't rain every day of the holidays, so make the most of the fine ones to burn off energy outdoors. The Arataki Visitor Centre on Scenic Drive is a good place to start to explore family-friendly trails in the Waitakeres, and also has a school holiday programme. On Tuesdays, Wednesdays and Thursdays the centre will host rock painting, an adventure challenge, wild yoga, kauri gum polishing and interactive story times.
If you want your kids to be able to run free and get muddy with someone else in charge, check out the school holiday programmes run in parks around Auckland by Conscious Kids.
Conscious Kids runs programmes at Blockhouse Bay, Western Springs, Devonport, Glenfield, Little Shoal Bay and Long Bay. Kids are given basic equipment such as ropes, tarpaulins, bungee cords and magnifying glasses and are encouraged to play freely in the outdoors. Electronic devices are strictly out.
Along similar lines is the holiday programme for 5 to 14-year-olds being run by the Forest School, north of Orewa at Hatfields Beach. While activities are led by the interests of the children, possibilities include den or hut building, a mud slide, nature crafts, tree climbing, tyre swing, fire building and cooking, exploring the forest, nearby beach and caves, and building dams.
If the weather's hospitable, visit the Sanctuary Mountain at Maungatautari, south of Cambridge. You can explore the trails on your own or book a guided tour of the bush enclosures or wetlands. Maungatautari is home to saddlebacks (tieke), stitchbirds (hihi), kiwi, kokako, takahe,and many other species of birds, insects and reptiles, including a tuatarium, home to eight female and 12 male tuatara.
WILD OPEN SPACE
If your kids are looking even further than the outdoors, space is a good place to go wild. At Stardome the mysteries of the universe are being paired with another popular childhood obsession - dinosaurs. The planetarium theatre is screening Dinosaurs at Dusk and Dragons: Real Myths & Unreal Legends before kids head into the space room for dry-ice experiments, and interactive fun, and outside to let off water-powered rockets if the weather permits.
Space is also the theme of MOTAT's school holiday programme. Tying in with its new exhibition Sunlight - Ihi Komaru, which reveals the secrets of the sun, Starbound explores the relationship between the Earth and its nearest star, with a range of space-themed activities around the museum.
SNOW (AND ICE) BUSINESS
If you want some real snow and ice, kids can learn to ski or improve their skills at the holiday programme at Snow Planet in Silverdale. At the Paradice ice rinks in Botany and Avondale it's more about fun, with a full programme of glow sports, snow play days, foam cannons, face painting and clown shows. The Aotea Square ice rink will also be open, during the day and into the evening, with a snow play area, skating lessons and special events such as DJ nights.
WILD AT SEA
Torpedo Bay Navy Museum
in Devonport is offering a map and chart-themed holiday programme, where kids can create their own cartographic masterpiece before following a discovery trail through the museum. The
National Maritime Museum
's holiday offering is themed around its
The Journey of a Million Miles
exhibition, exploring the journeys made by migrants to New Zealand. Activities include story telling and making fabric travel wallets.
WILD ON STAGE
The Tim Bray Productions team is bringing Margaret Mahy's The Great Piratical Rumbustification to life at Takapuna's Pumphouse Theatre, while Papakura's Hawkins Youth Theatre Company is staging Dr Seuss' The Lorax and the Moneybags. To see how things are done Hollywood-style, check out Henderson's Whoa! Studios, for a show, or at the very least to check out the cool playground and The Grounds restaurant.
For a free, interactive theatrical experience on the weekends of the holidays, check out Auckland Live's Pick n Mix events at the Aotea Centre, Takapuna's Bruce Mason Centre and the Mangere Arts Centre: shadowplay spectacular Trick of the Light (July 8"9), an interactive whale-rescue simulation (July 15"16) and physical theatre with Royal Jelly (July 22"23).
There's also a puppet festival on at Orewa's Estuary Arts Centre, with exhibitions and workshops throughout the holidays.
WILD - AND FREE
If you just need to blow out a few cobwebs without blowing the budget, throw on wet weather gear and head outside. Try visiting a beach you haven't been to before; go troppo in the Wintergardens at the Domain; or scale a few of Auckland's volcanic cones. Check out some of Auckland's great bike trails, such as the Rotary Shared Path from Panmure to Farm Cove out east, Orewa's Te Ara Tahuna Estuary cycleway or the Onehunga to Mangere Bridge ride. Take a torch and explore the tunnels in Devonport's North Head, or the leftover military installations at Hobsonville's Bomb Point.
Source: NZ Herald.