Why these five wedding traditions are totally outdated
Publish Date

Saturday, 7 October 2017, 12:30PM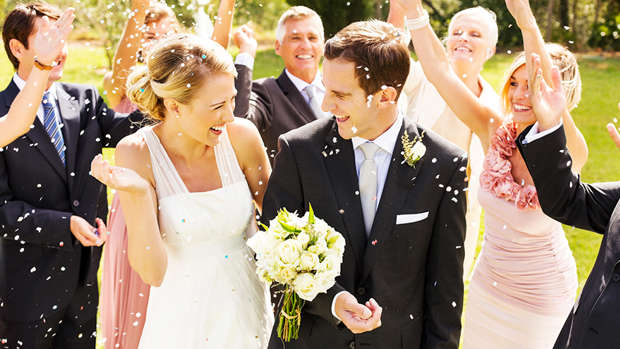 For years brides and grooms have obeyed wedding traditions and etiquette but according to some experts, times are changing.
Martha Stewart Weddings spoke to a roll call of wedding planners about which wedding traditions are on their way out - and many might surprise you.
The experts maintain that weddings don't have to be paid for by the bride's family, the couple can see each other before the ceremony and they don't need to greet every single guest that attends, according to Daily Mail.
THE COUPLE CAN SEE EACH OTHER BEFORE THE CEREMONY
It's been a long-standing tradition that bride and groom sleep separately on the night before their wedding and the groom can't set eyes on his wife-to-be before she walks down the aisle.
However, a new trend sees the groom enjoying a "first look" at his partner ahead of everyone else.
Experts say this private moment often takes place before the ceremony where the couple can grab a few moments together and even have intimate photos taken ahead of saying their vows.
Experts also believe this method allows the couple to have more time to dedicate to the pre-wedding party drinks when they'd usually have to sneak off to take photos.
THE BRIDE'S FATHER DOESN'T HAVE TO WALK HER DOWN THE AISLE
Tradition dictates that a bride will be escorted down the aisle by her father but experts say it can be anyone.
In fact, a new trend sees brides being walked down the aisle with father on one arm and mother on the other.
Many brides also have their biological father walk them half way and their stepfather the rest of the way - and for those who have lost a father, an uncle, brother, grandfather or friend often does the honours.
YOU DON'T NEED TO GREET EVERY GUEST
Known as the "receiving line", the happy couple were once expected to line up alongside their parents and greet each guest one by one ahead of the wedding breakfast.
However, modern couples can skip this and greet guests in a less formal way, such as moving around tables during the meal or simply drinking and dancing with guests afterwards.
THE BRIDAL PARTY CAN WEAR BLACK
As Farah Saint-Jean of Spectacular Affairs, LLC, explains: "For many years black dresses for the bridal party was forbidden, as the colour is associated with sadness and grief.
"Furthermore, tradition is that bridesmaids wear white so that they look like the bride in order to protect her from evil spirits that may try to harm her."
However, modern brides can wear whatever they choose - whether it's black, red or pink - and more and more bridal parties are embracing alternative colours.
THE GROOM'S FAMILY CAN PICK UP THE ENTIRE BILL
While the bride's family have long been expected to foot the wedding bill, wedding planners say it's more commonplace for the couple to fork out for the entire thing - or even the groom's family.
 This article was first published on Daily Mail and is republished here with permission.