Liam Messam Puts Support Behind Mother's Plea For Sideline Abuse To Stop
Publish Date

Tuesday, 26 April 2016, 9:34AM
Rochelle Mara used Facebook to share her frustrations about parents at her son's junior rugby league under 10s match on Saturday in Auckland, criticising her son and calling him "big boy".
Her post online was liked over 135,000 times, has over 9, 500 shares and has over 16, 500 comments.

"My boy. The one you so freely stood on the sideline this morning laughing at. The one you were talking about being a 'Big boy' and not 'an asset to the team'," said Mara.
We need to be there to support our kids not tear them down #ourfuture #letkidsbekids… https://t.co/Fu34ms7tTC

— Liam Messam (@LiamMessam) April 24, 2016
"The one you laughed at for not being able to run as fast as your kid. Obviously not realising I, his mother, was standing right next to you listening to everything you were saying - Until I told you. Ha!
"You couldn't move to the other side of the field fast enough."
Messam reposted Mara's post via his Instagram today, telling his followers to support all children playing and not mock them.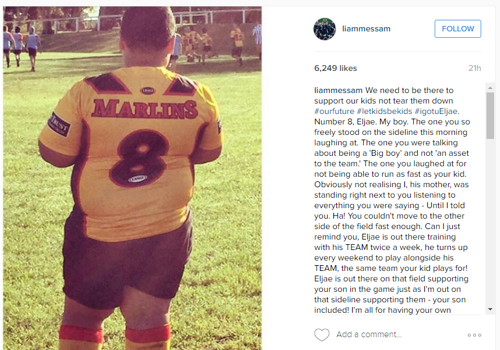 "We need to be there to support our kids not tear them down," said Messam.
Mara said her son trained twice a week and turned up every weekend to play alongside his team.
"For a kid who has never played rugby prior to four weeks ago, he's doing a damn good job and I tell him this every week. He does not need to hear your negativity."