Multiple injuries in Florida high school shooting
Publish Date

Thursday, 15 February 2018, 9:33AM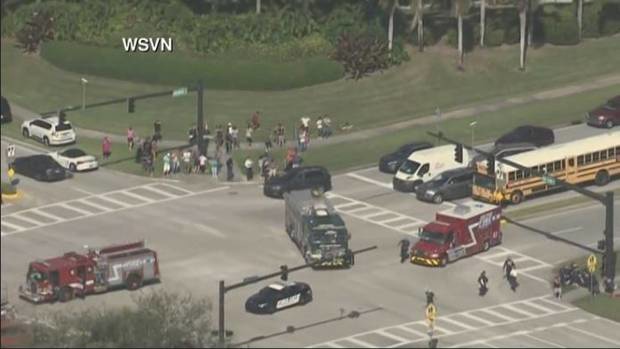 Fears up to 16 people are dead in Valentine's Day shooting at Marjory Stoneman Douglas High School
Gunman identified as former student Nicolas Cruz, 19
Students now safely evacuated told of walking past "motionless bodies"
At least 16 people are now feared dead and many people are injured in a Florida high school shooting on what is Valentine's Day in the US.
The gunman, who was reportedly wearing a gas mask, was captured by police at a house barely a kilometre away from Marjory Stoneman Douglas High School where the shooting happened shortly before dismissal time.
He has been identified as former student Nicolas de Jesus Cruz, 19.
Casualty numbers are expected to rise.
"There are fatalities involved here," school superintendent Robert Runcie said.
"It's just a horrible day for us."
Florida senator Bill Nelson told local media that "many people have been killed" in the shooting at the 3000-pupil school.
A student told media that classmates hid in a closet at the school when the shooting started.
"All of a sudden there was a really loud noise… people are crying in the closet," the student wrote to CBS 4.
Parent John Obin says his son, a freshman at the South Florida school where the shooting erupted, was in class when he heard several shots.
Obin says teachers quickly rushed students out of the school. He said his son told him that he walked by two people on the ground motionless — apparently dead — as students rushed outside.
"This is a really good school, and now it's like a war zone," Obin said.
An unidentified student told a reporter that at first students thought it was a fire drill because they had heard fire alarms going off.
Others said they thought it was balloons popping, as many students had them to mark Valentine's Day.
The shooter was described as wearing a black hat, a maroon or burgundy shirt and black pants. He was apprehended at a house about a kilometre from the school.
Television footage showed police putting a person in the back of a police car outside the high school.
Police with guns drawn swarmed the school shortly before lessons finished for the day, WPLG reported. The school was on lockdown as students fled, carrying their bags. The lockdown has now been lifted.
Some students were seen lined up in single file, leaving the area in an orderly fashion. Other students were hysterical.
Runcie said the school had no warning of the shooting, adding: "Mental health issues in this country are growing."
Police have told every hospital in the area to prepare to receive casualties from the school.

One mother, shaking with fear, told ABC affiliate WPLG her daughter said she was okay and was huddled in a locked classroom.
"She's terrified," the mother said. "She said she heard the gunshot."
"I'm glad that she's able to text," she added.
Another mother told the affiliate her daughter "keeps telling me to stay away. 'Be safe, Mom, stay away.'"
"I won't stay away," she said, telling her daughter, "I'm your mother."
About 3000 students attend the high school, where a massive police response is under way, including a Swat team.
Police are advising on Twitter that people should avoid the neighborhood.
Students and teachers in the school are asked to stay barricaded inside until police reach them.
President Donald Trump has been briefed on the shooting.
It is at least the 19th school shootings to have happened nationwide in the US this year, according to the gun control advocacy group Everytown For Gun Safety.
This article was first published by nzherald.co.nz and is republished here with permission.