Non-Verbal Teen Writes Profound Letter Explaining Autism
Publish Date

Friday, 20 May 2016, 11:26AM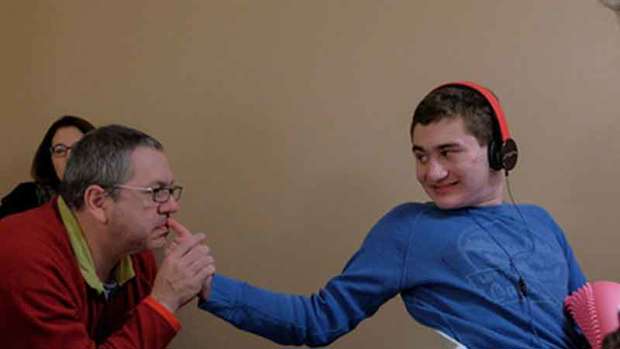 For the first 14 and a half years of Gordy's life, Evan and Dara Baylinson had no reason to believe their son could comprehend anything they said: He had never spoken, and he couldn't really emote. They worried aloud about his future, not filtering what they said, because they didn't think he understood.

But Gordy was absorbing everything.

"My brain, which is much like yours, knows what it wants and how to make that clear," he wrote in a letter he sent to a police officer. "My body, which is much like a drunken, almost six-foot toddler, resists."

He typed each letter one at a time with his right index finger. No one coached him, edited his words or told him what to say. After two one-hour sessions, he had written a nearly 400-word note.
"My name is Gordy, and I am a teenager with non-speaking autism. I prefer this term rather than low functioning, because if I am typing you this letter, which I am, I am clearly functioning."

"This letter is not a cry for pity, pity is not what I'm looking for," he wrote. "I love myself just the way I am, drunken toddler body and all.

This letter is, however, a cry for attention, recognition and acceptance."
Unbeknownst to his parents for so many years, their son is a beautiful writer with a lot to say.

Gordy was diagnosed with autism spectrum disorder when he was 17 months old. Gordy, now 16, doesn't speak, but his mind is a treasure trove of knowledge and opinions about the world that he's picked up from listening.

But it wasn't until February 2015 that his parents found that out.
It was then that one of Gordy's many therapists, Meghann Parkinson, started teaching him the "Rapid Prompting Method," a relatively new technique that consists of her asking him questions and him answering by pointing to letters on an alphabet board. In a little over a year, Gordy has advanced to a keyboard, his words appearing in large font on an iPad screen propped in front of him as he types.
It's through his work with Parkinson at Growing Kids Therapy in Herndon, Virginia that Gordy wrote an eloquent and poignant letter to a police officer about what it's like to be autistic.
Weeks earlier the Baylinsons, who live in Potomac, Maryland, had seen a flier for an "Autism Night Out" hosted by the Montgomery County Police in Maryland. They asked him if he'd rather attend that or his prom on Friday. He chose the police event. There was an e-mail address at the bottom of the flier, and Parkinson asked him if he'd like to send the officer a letter.

They had no idea their son had strong opinions about the police or the treatment of autistic people. But they sat stunned as the words poured out of Gordy with humor and empathy and maturity.
Read the full LETTER at nzherald.co.nz