The Hits Waikato Out & About Guide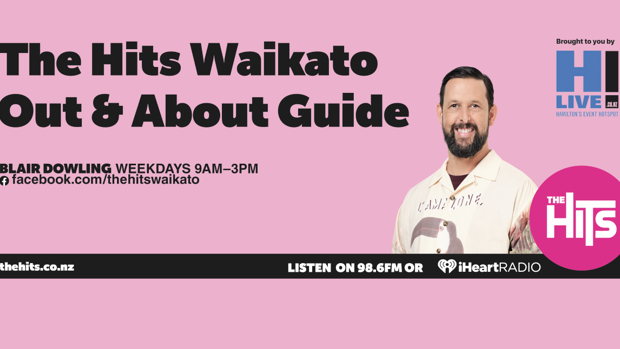 The Hits Out & About Guide with H-Live, Liven Up your Winter with Hamilton's hottest events!
HLive is Hamilton's event hotspot – where you can find out about all of the city's very best events in one place. Liven-Up your winter with the hottest events in Hamilton! Whether you are a sports fan, music lover, comedy nut or fancy some fun family entertainment, you're sure to find an event to excite you at HLive.co.nz - you can even sign up for event information to be delivered straight to your inbox here!
Drax Project and Mitch James | July 24 2021

It's the tour that pop dreams are made of…. 
 
Eccles Entertainment and ZM present Drax Project + Mitch James with special guest AACACIA playing across Aotearoa this June and July! The tour is coming to Claudelands Arena, Hamilton this weekend! 
 
Drax Project has won the crowd over at every single one of their recent performances. The band are exceptional players whose hooky songs and sonic sounds transfix any audience. 
 
It's been a minute since fans last had music from Mitch James, but he's back with brand new single 'Be Somebody', a starkly personal and reflective song that showcases his authentic approach to hit song-writing. The now 25-year old is ready to soar to new heights, with an invigorated passion for music and sense of self – he's ready to get back to business, and what better way to do that than by touring with great mates Drax Project! 
TICKETS ON SALE NOW 
For more info click here: https://www.hlive.co.nz/events/drax-project-and-mitch-james/ 
Brickman Awesome | July 3rd 2021 - August 1st 2021

Ever wondered if an orca could make it as far up the Waikato as Hamilton? Answer: Yes! This most amazing phenomenon is about to happen as a 3m tall orca lands on the city as part of the spectacular Brickman Awesome exhibition these July school holidays. 
After completing a stunningly successful season at Auckland Museum, which saw over 100,000 attendees, this world-class exhibition produced by LEGO® Certified Professional Ryan 'The Brickman' McNaught's will open at Claudelands Events Centre in Hamilton on 3 July, running through to 1 August. The centrepiece attraction is the ORCA model, which has been built with over 14,200 LEGO and DUPLO® bricks. 
For more information, see https://hlive.co.nz/events/brickman-awesome/ 
Benee - Aotearoa Tour 2021 | August 28th 2021
 
Get ready to experience BENEE at Claudelands Arena! This is a tour not to be missed. 
Formidable indie-pop sensation and rising global superstar BENEE has today announced a nationwide regional tour for August. BENEE will visit every corner of the country, hitting eight different towns and cities throughout the month. The 'Supalonely' singer has had an incredible 18 months, from releasing her debut album 'Hey U X', to sharing the album with Kiwi crowds on a sold-out eight-date tour in late 2020 and being named on Forbes 30 under 30 Asia 2021 list. Worldwide streams in the billions have made her one of the most exciting new acts to have emerged anywhere. 
TICKETS ON SALE NOW. For more information see https://hlive.co.nz/events/benee/ 
Women's Lifestyle Expo | August 28th 2021 - August 29th 2021 

The Women's Lifestyle Expo is a two-day event for women of all ages, happening on Sat 28 & Sun 29 August at Claudelands Events Centre! Featuring over 180 exhibitors showcasing everything from fashion and beauty, to health and fitness, artisan goods, gourmet food and beverages and much more. Door sales are $10 and kids under 12 are free, or grab a 2-for-1 deal now on GrabOne! 
For more information visit https://www.hlive.co.nz/events/womens-lifestyle-expo-3/