Bride left fuming after groom blows $24k budget on pig themed wedding
Publish Date

Friday, 4 August 2017, 12:22PM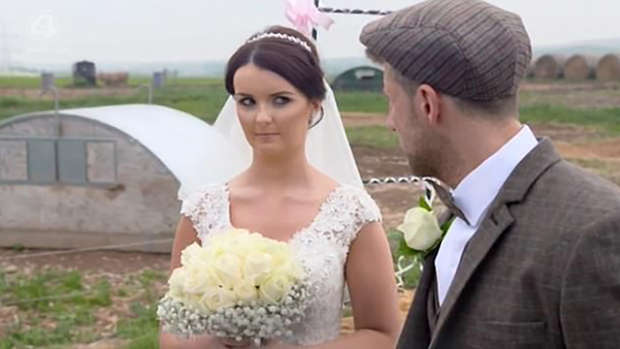 A UK bride who dreamed of a traditional wedding in the countryside was left fuming after she was forced to walk up the aisle surrounded by pigs.
Steph, 23, a development executive from Mansfield Woodhouse, Nottingham, handed over wedding planning reigns to her groom Billy Grieves, 27, a fireman, in E4's Don't Tell the Bride.
But the self-confessed joker blew his £14,000 (NZ$24,000) budget on a pig themed wedding, according to the Daily Mail, hiring 50 of the animals in an attempt to break a world record pig parade - which unfortunately failed spectacularly.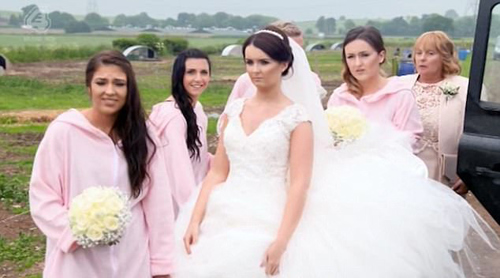 Photo / E4
Viewers who watched the episode chimed in over Billy's behaviour. Taking to social media, one said: "How stupid do you have to be to think getting married on a pig farm is a viable idea let alone good one?!"
Another joked: "She should NOT marry this pig. I would go absolutely ham, this wedding stinks and he's bacon a fool of her."
While others laughed at Billy dressing the bridesmaids in pig onesies: "There are no words really, this chap is beyond dumb."
"I don't think I've ever seen anything quite so ridiculous," added another.
Billy reasoned that his wife-to-be would be thrilled with the unique theme because of her pet name "little piggy" - but Steph refused to speak to him when she arrived at the altar.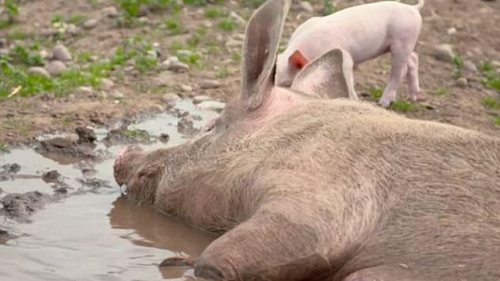 Photo / E4
Upon arriving at the venue she said: "I think this is a joke. I don't want pigs at my wedding, it's gone to the extremes I just want this over with."
The couple had met four years ago at a nightclub in the town where they live, and Billy proposed three years later.
During the programme, Steph explains that the pair are total opposites, but even with his differing tastes she could never have expected to say her 'I dos' with the farm animals as her guests. 
A Guinness World Record adjudicator was also a guest at the wedding to monitor Billy's attempt to usher a parade of 50 pigs after their vows, but it didn't go to plan after they ignore his instructions.
Billy explained that his rather niche theme acted as a tribute to one of their first dates where they had gone for food and Steph said "I feel like right little piglet".
"It just stuck," he said and added that he regularly bought her pig-related trinkets and gifts - though she later admitted she had never been a fan.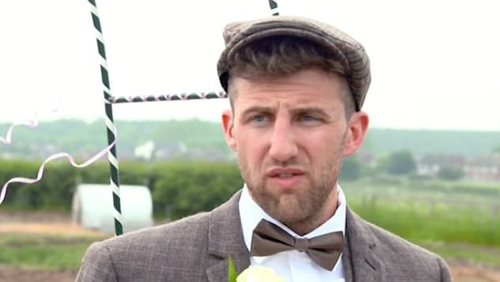 Photo / E4
Once he had settled on a theme the groom got carried away spending £1,000 on hiring a pig farm, £100 on pig onesies for Steph's bridesmaids, and £250 on a pig cake.
While Billy was wise enough to steer clear of a pig bridal gown the £1,000 dress he did choose was less than a success with Steph admitting she "hated" it - and the wellies he had chosen to accompany it.
The bride was left in tears over her hen do, after Billy left just eight bottles of fruit wine behind the bar and a few shots of Jagermeister - while he budgeted £1,500 for his own raucous stag do which wasn't aired on the episode.
Steph's bridesmaids blasted the "tacky" onesies and as well as the purple dresses he had bought as a backup.
And the bride wasn't best pleased either: "This is a joke. I didn't want a themed wedding I wanted a nice wedding.
"I'm so mad now I don't want to go to the wedding I'm fuming."

Photo / E4
The mother-of-the-bride was equally displeased and the pair were unable to crack as smile as they walked down the aisle. 
"When your first daughter is getting married this is not what I wanted," she said.
Despite rain also put a dampener on the day Billy remained upbeat and managed to put himself back in favour with a marquee and dance floor. 
"I'm not a world record holder but I married the girl of my dreams," he said, as Steph eventually praised his efforts. 
WEDDING COSTS
Pig wedding cake £250 (NZ$600)
Stag do £1,500 (NZ$2650)
Hens night £400 (NZ$700)
Marquee £5,000 (NZ$8800)
Wedding dress £1,000 (NZ$1765)
Pig onesies £100 (NZ$176)
Purple evening dresses £100 (NZ$176)
Hiring the farm and pigs £1,000 (NZ$1765)
Wedding flowers £270 (NZ$476)
This article was first published on Daily Mail and is republished here with permission.