Bridezilla's meltdown over guests refusing to fork out $4k to attend wedding has gone viral
Publish Date

Tuesday, 18 September 2018, 12:30PM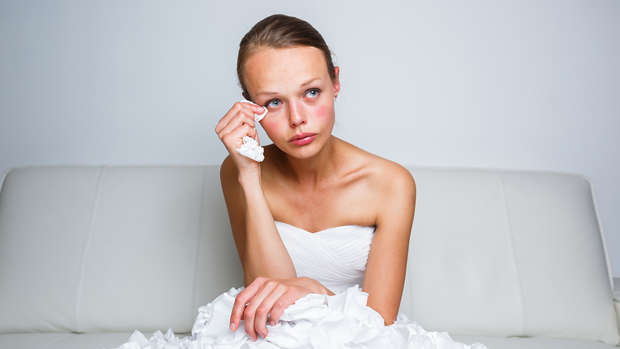 Every bride wants their big day to be magical, but some want it all no matter the cost …
A bride-to-be's fuming rant on Facebook has gone viral and added to the growing trend of bridezilla's expecting their guests to fork out thousands to attend their wedding.
This time the anonymous woman tore into her friends and family members for refusing to cough up $4500 to attend her destination wedding in Thailand.
"At the risk of sounding entitled ... I have to vent today," she wrote.
"When we invited our friends and family to our destination wedding in Thailand, only nine people RSVPs [sic]. Out of 150!!!
"Ok, I get it, paying $3k ($4.5K NZD) to share my special day is too much for some for you, I'd pay for yours, but whatever," she continued.
"When we changed the wedding to be in Hawaii, so it's within everyone's reach, only 7 of your RSVPd???"
"It costs less but less of you wanna come? Is that what you think of [D] and me? You can't spare $3k to come share our happiness?"
"This is it guys, you have three days to respond to our e-vites or we're deleting you off FB and good luck keeping up with our lives then," she warned.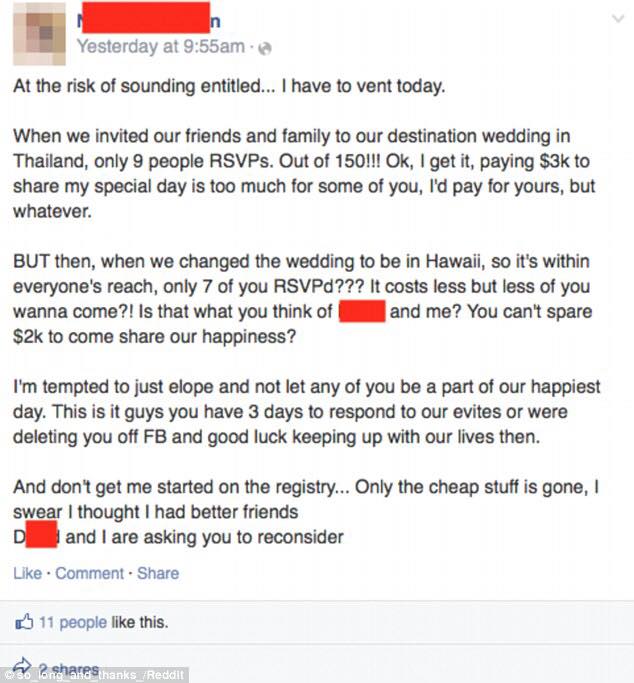 "And don't get me started on the registry ... Only the cheap stuff is gone, I swear I thought I had better friends."
"D and I are asking you to reconsider," the post concluded.
The post went viral after being picked up by Reddit users, who were quick to label the woman a bridezilla and slam her for unreasonable expectations.
Last month another bride shocked the world after she called her friends - who refused to give her $1700 to attend her wedding - "snakes".