Kiwi mum's genius solution to son's tantrum: Call the police
Publish Date

Monday, 7 May 2018, 8:30AM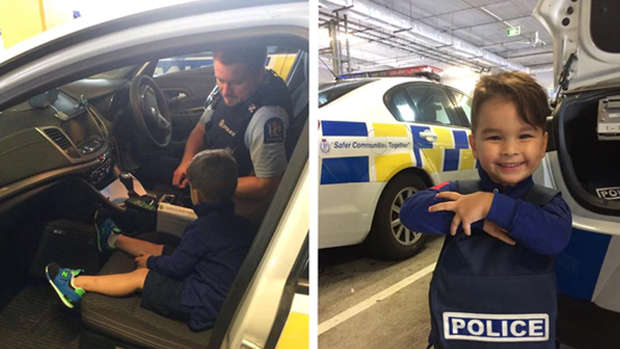 When her oldest son woke up in a bit of a mood, Sandy Gribble knew it'd be a rough day.
Gribble's three-year-old son Lachie decided to test every boundary on Saturday morning and, when his mum decided he needed a timeout, he ran off.
"Our lovely firstborn woke up on the wrong side of the bed this morning and decided to test every. single. boundary known to mankind," the Auckland mother posted to Facebook.
"Punishment was no swimming lesson and time out to reset himself. Before you go ahead and judge me as you'll be thinking that's a bit harsh he's only three. Yes, he is only three, but the kid is gifted, he's an out of the box character and he can't be underestimated. Ever.
Gribble noticed her boy had managed to jump off his bedroom window and her heart raced as she ran out of the house to find him.
READ MORE:
"Running down the road (can't believe I can actually run wtf?!), the sheer relief that he is unhurt and not been mowed down by a car. Not the walk of shame I'd ever imagine doing in my life cause I just realise only wearing my t-shirt and underwear," she recalled.
The three-year-old was anything but apologetic.
"Naturally he's still peeved off at the whole situation so starts to berating me with screams and toddler obscenities "YOU POO MUM YOU GIANT POO I'M NOT YOUR FRIEEEEEEND ANYMORE". Awesome thanks kid, now all the neighbours have come out to view the shit show and I love it how you have kept the performance up while everyone judges me for being the worst mum ever."
READ MORE: 
Seeing her son had no idea how dangerous running out of the house like that could be, Gribble decided she needed "an out of the box solution for an out of the box kid".
"I called the police station. I spoke to Lisa, who laughed and told me it was quiet and to bring him in," the mum said, referring to the Albany police station, near her house.
Once there, the police explained to the three-year-old why running away from home is always a bad idea.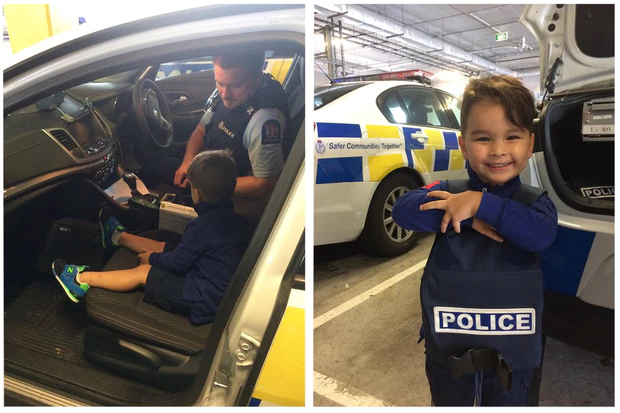 A little visit to the Albany police station taught Lachie why he should never run away from home. Photo / Facebook
"Incredibly grateful to the people there for giving me a hand in explaining to Lachie the reason why people need to be safe and how the police keep people safe (adult timeout was also part of the grand tour).
"After all this, he bloody got it! It has actually sunk into his 1216 day old brain that roads are not built for toddlers and half-naked mum and that he should have listened."
The concerned mum added that she will be adding locks to his bedroom window, as per police advice.
"Lisa at the station reckons I should be more concerned with who will be climbing into his window with his killer smile," she said.
"What an awesome bunch at the Albany Police Station takes a village to raise a child."
Facebook users agreed the mother was "nailing this parenting thing" and applauded her for her "genius idea".
This article was first published on NZ Herald and is republished here with permission.