Kiwis outraged over the changes to Cadbury's Marshmallow Eggs ...
Publish Date

Tuesday, 29 January 2019, 11:43AM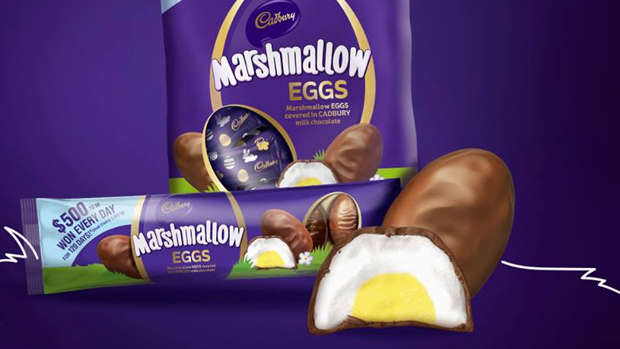 The outrage; we're only just coming to the end of January and Easter is already on the shelf!
But what's upsetting Kiwis, even more, are the changes Cadbury has made to its popular Marshmallow Eggs.
What was previously a whole chocolate marshmallow egg where two halves were joined together, has now been cut down the middle with the treat to be sold as a half egg shape.
And the design isn't the only change ...
The Easter treats will no longer be wrapped in foil.
Taking to social media, hundreds of heartbroken Kiwis expressed their disappointment about the "disgusting" changes.
"What next!!! Oh bummer. Love pulling them apart. Plus that extra choc gave it a bit of crunch. Gosh I wish Cadbury would stop changing things that are perfectly fine," one customer wrote.
"Shame on you, since when are eggs flat on one side," another said.
A third added: "I loved pulling apart the marshmallow eggs!! What is wrong with you Cadbury?! Talk about giving the middle finger to all of the NZ market. That's the last straw for me."
"Cadbury needs to leave things as they are. They are eggs not just a hump," wrote someone else.
While another person said Cadbury needed to get its act together and to stop "butchering" their products.
Cadbury has since said that reverting to the original marshmallow egg is not possible, as its new equipment in Australia - following the closure of Cadbury's Dunedin factory - can't replicate the old shape.
READ MORE:
• How much exercise will it take to burn off your Easter egg?
• Mum's ruthless note to her children from the Easter Bunny goes viral for the most hilarious reason ...
"While we would like to have continued making them the same shape, the age of the previous equipment has meant we've invested in more modern equipment which will ultimately deliver more consistent quality," Cadbury senior marketing manager Mel Yates told the Weekend Herald.
"The new shape was actually developed by our Dunedin team, and a number of members of that team have relocated to Melbourne with their families to continue overseeing production of the Cadbury products they love including Marshmallow Eggs. It's a change that would have happened anyway, the factory closure just brought the timing forward."
"As with any change, some people will be disappointed by the new shape, but we hope they'll give them a try as we're confident Cadbury Marshmallow Eggs will continue to be one of New Zealand's favourite Easter treats."