Meet the New Zealand couple who got married in a funeral parlour
Publish Date

Monday, 26 June 2017, 11:58AM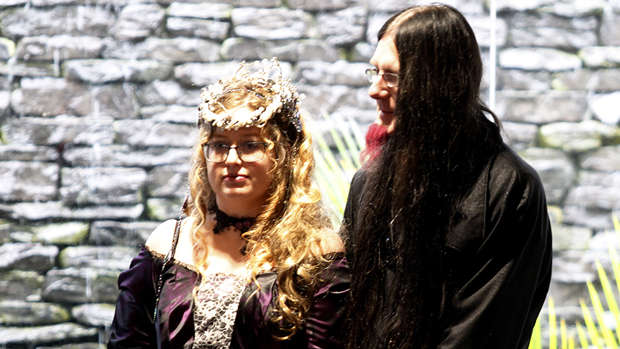 It was Here Comes The Bride rather than the funeral march at a Whanganui funeral home at the weekend.
Stephen 'Sticky' McKeown and Nicola Thomas had wanted a Gothic-style wedding at an out-of-the-box venue.
And so, on Saturday afternoon, the pair stood face-to-face at Dempsey & Forrest's city centre funeral home and said: "I do".
We were just having a coffee one day and thought: Why not there?" Mr McKeown said.
"I don't like doing the normal thing but rather to do things with a twist - we sort of like to think outside the square."
The couple have been together for about seven years and engaged for 18 months.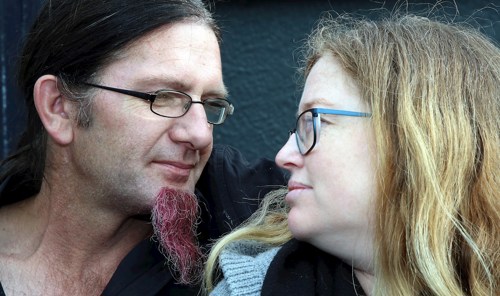 Photo/ Stuart Munro
"We were Googling it to see if it was legal, and it's actually quite a big craze in America, where funeral homes are trying to find new ways to generate income," Nicola said.
They received mixed reactions from family and friends when they told them about the unusual wedding location, but everyone eventually came around to the idea.
"One who was really appalled with the idea came to us after and was like, 'Oh, I have to apologise - that was really awesome'," Nicola said.
The couple were familiar with the venue, having been there for funerals.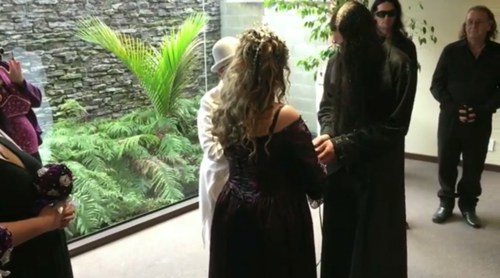 "I've always liked the waterfall chapel because that's where I said goodbye to my grandparents, so it was kind of a way for them to be there, too," Nicola said.
"And it kind of gives a bit of an edge to it - we do like shocking people sometimes.
"Death is kind of like the end of one chapter of your life and the start of another so when I got thinking about it, it made perfect sense to get married in a funeral home."
Mr McKeown said the unique venue helped him cope with wedding day nerves.
"You're going into a new chapter of you're life, and just having something a little bit different made it more exciting, and I was more relaxed.
"But, at the end of the day, it's only a building."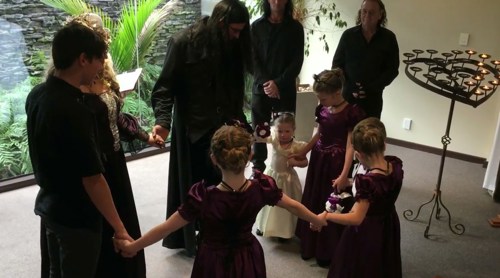 They're not the first couple in New Zealand to marry in a funeral home.
In 2011 Christchurch couple Craig Payne and Sue Magson married in the crematorium chapel at Christchurch funeral directors Bell, Lamb & Trotter.
But Dempsey & Forrest funeral director James Forrest said it was the first time he had hosted a wedding.
"I've got plenty of friends in the funeral industry and I haven't heard of it before," he said.
"It is a beautiful facility we've created to help people celebrate life when they lose someone.
"So we were actually quite thrilled, because they had dealt with us through a funeral, so they'd been in the chapel through sad times but they felt it appropriate for their big day."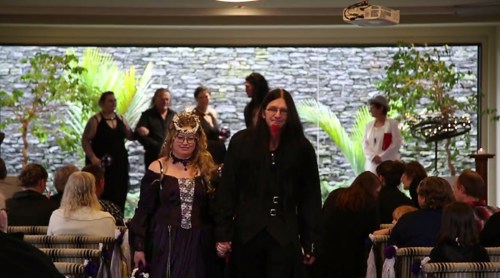 Mr Forrest said it was a privilege to host the McKeown wedding and he was on site to see how it unfolded.
"Because it was the first, I wanted to be there ... I wanted to experience it.
"It was just really beautiful. There were two staff there with me and we commented afterwards, 'Gee, that was quite emotional'."
Mr Forrest won't be pursuing weddings as a new line of business, but said he was open-minded about the use of the chapel.
"Obviously, our priority is caring for families when they lose someone."
This article was first published on NZ Herald and is republished here with permission.