This Aussie bride's bouquet is majorly dividing the internet...
Publish Date

Tuesday, 12 September 2017, 3:15PM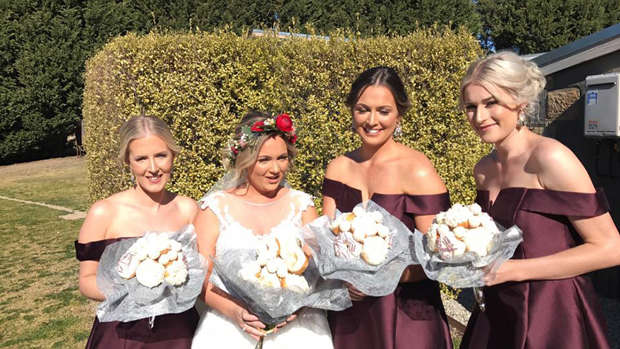 These days plenty of brides are stepping away from tradition when it comes to celebrating their wedding.
Be it black wedding cakes, coloured wedding dresses, or having food trucks instead of a plated meal - brides are embracing their personal preferences more and more.
But one Aussie bride might have just taken things to the next level with her bouquet.
That's because she decided to ditch having a floral bouquet and instead carry something a little more edible down the aisle.
Paige Kirk, 23, surprised her bridesmaids with a bouquet of decorated doughnuts and pastries just minutes before walking down the aisle.
"We wanted the wedding to be a bit different and really reflect who we are as a couple," she explained to the BBC.
"We figured why not have doughnuts? Everyone loves doughnuts!"
Social media users were quick to comment on the bouquet, with many people saying the idea was "genius", "classy" and "fabulous".
While others though the bouquet was "tacky" and "unnecessary".
What do you think of the doughnut bouquet?