This mum takes a photo of her daughter in her wedding dress every year for the sweetest reason
Publish Date

Sunday, 31 December 2017, 8:25AM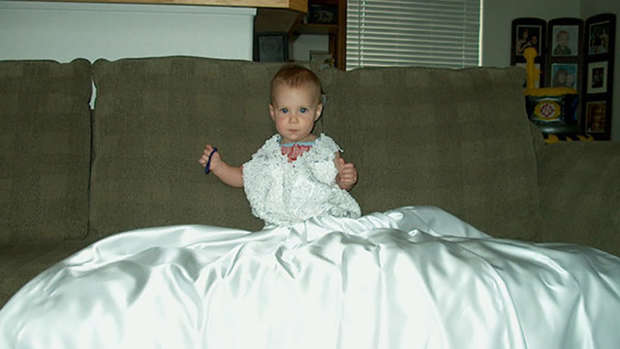 Your wedding dress will hold a special place in your heart for the rest of your life. But what does a girl do with a wedding dress after her big day?
One mum has an answer to that question and is now getting more use out of her dress than ever before. And we have to say, the meaning behind it is super sweet.
Brandy Yearous, has been photographing her little girl Allison in her wedding dress every year since she was one-year-old.
The dress, from their 1999 wedding, always looked the same, but her daughter? Not so much.
"It really hit me she was becoming a woman when the straps were able to fit on her without falling off," the mom told The Huffington Post.
"I took the pictures, but didn't realise how valuable they were until Facebook. My friends look forward to watching my kids grow."
She originally started the tradition when her son Ryan was born in 2001, but instead of having him wear a white wedding gown, she had him step into her husband's old jeans. When Allison was born though, she ditched the jeans idea and went for something that could hold more meaning for her daughter later on down the road.
As Brandy's daughter grows, every year becomes a bit more difficult than the last, as she realises how quickly time flies by.
"At first, it was a fun way to watch the kids grow up, but now that they are teens, every year is becoming more heartbreaking. Dad's pants almost fit, and the shoulder straps don't fall off my princess anymore. It makes each birthday that much more valuable."
We give you permission to steal this adorable idea.