This woman hilariously threw an apple at her fiancé during his proposal
Publish Date

Thursday, 26 October 2017, 2:00PM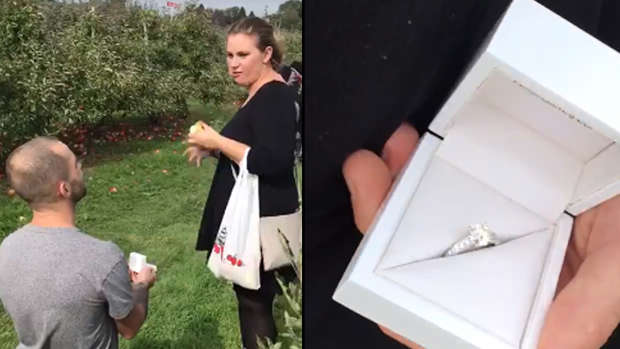 We're living in an age where practically all important life moments are recorded. And thanks to the person who filmed this hilarious proposal reaction this couple will have a great reason to remember what happened when they agreed to marry each other.
Randy Wentre popped the question to his girlfriend of seven years, Miranda Mccallion and he probably wasn't expecting the reaction he'd receive.
That's because when he proposed to his wife to be, she threw an apple in his face before hilariously tackling him over.
In case you didn't notice from the video and are wondering why she's holding an apple, it's because the couple were at an apple orchard celebrating her birthday.
And before you wonder why she didn't believe him, he'd apparently fake proposed a good six times in the last year which justifies her reaction.
The couple has known each other for their entire lives and has been together for seven years with two children.
What a funny and memorable to remember their proposal!