Wedding photographer hits out at guest for ruining 'perfect shot' with iPhone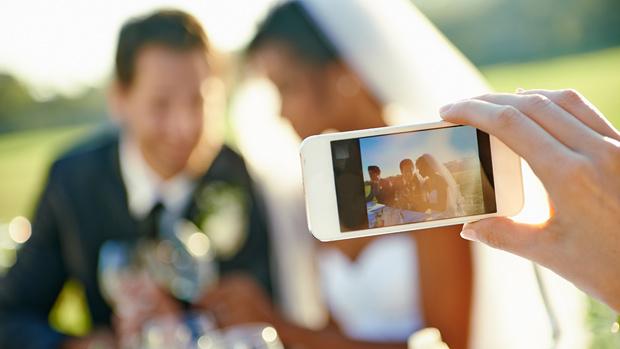 There is a reason why more and more brides and grooms are opting for 'unplugged' weddings.
One wedding photographer went viral for accurately showing exactly why wedding guests are being asked to switch their cell phones off.
Taking to Facebook, Hannah Stanley, 25, let loose on a guest who had ruined a photograph of a father of the bride walking his daughter down the aisle by sticking her iPhone into the middle of the shot to take her own snap.
"To the girl with the iPhone," Hannah's Facebook post - which went viral in 2019 and has since resurfaced - began. "Not only did you ruin my shot, but you took this moment away from the groom, father of the bride, and the bride."


Photo / Facebook
"What exactly do you plan on doing with that photo? Honestly. Are you going to print it out? Save it? Look at it every day? No. You're not.
"But my bride would have printed this photo, looked at it often, and reminisced over this moment as her dad walked her down the aisle on her wedding day. But instead, you wanted to take a photo with your phone, blocking my view, and taking a photo that you will not use," she continued.
The American photographer then urged other guests to not repeat the annoying behaviour and leave the photo-taking job to the professionals.
"Guests, please stop viewing weddings you attend through a screen but instead turn OFF your phone, and enjoy the ceremony. You are important to the bride and groom, you would not be attending the wedding otherwise. So please, let me do my job, and you just sit back, relax, and enjoy this once in a lifetime moment."

Speaking with TODAY Style after her message when viral online - earning more than 160K shares on Facebook – Hannah revealed that she did end up getting the "perfect shot" for the bride and her dad, but said the fleeting moment was still ruined by the iPhone-wielding woman.
"I was able to get the perfect shot," Hannah explained to TODAY Style. "Me along with photographers across the world, work very hard to serve our couples and not let a guest's phone prevent us from getting the best photo. What we as photographers want guests to understand is these specific moments are not posed, they are in real time, giving us seconds to capture it."
Hannah also pointed out that guests should be "fully present" in the moment of the wedding ceremony instead of being behind their phones.
"Marriage is the most sacred union on earth. The ceremony is where two people are becoming one and they have asked you to witness one of the greatest moments of their life," she told TODAY. "Be fully present, and let the hired professionals capture it."