The biggest wedding trends of 2018, according to Pinterest
Publish Date

Friday, 2 March 2018, 10:00AM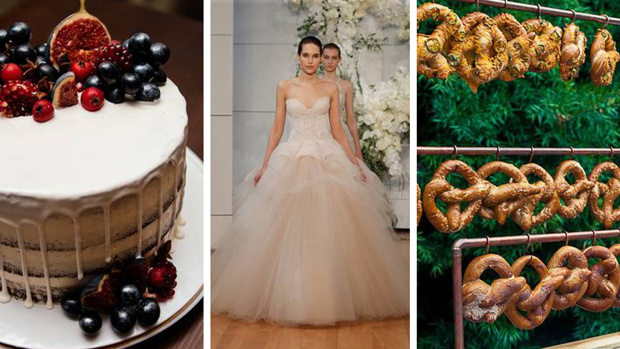 When you think of a wedding, a white dress and a diamond ring are part of the picture, right?
Well according to the latest Pinterest trends, these two common features, along with other traditional tie-the-knot favourties, could be on their way out.
Don't expect that these new trends are cost-cutting measures either, as wedding blog She Said Yes revealed that the average wedding for Kiwi couples will set them back a staggering $35,000.
We've rounded up the top 10 wedding trends of 2018 that you need to know about.
1. Colour-infused dresses
Get ready to see a new wave of colour for weddings in 2018 as brides move away from traditional white gowns. 

Pinterest searches for rose-coloured dresses increased by 46 per cent and searches for champagne coloured gowns increased by a massive 358 per cent.

Monique Lhuillier Spring 2018. Photo / Getty Images

2. Bye bye ties
Women aren't alone in wanting to mix things up: tie-free searches have increased by 459 per cent and tweed suits have become a popular search term.
3. Ditch the diamond
Diamonds may be a girl's best friend, but it turns out there are some new stones on the block gaining popularity among brides-to-be: moissanite gems, art deco designs, and oval shaped jewels.

Read more:

Vintage gemstone rings will be popular this year. Photo / Getty Images
4. Pizza parties
Formal sit down dinners are so 2017 according to Pinterest. Instead, couples are loving quirky food stalls and even pizza party-themed weddings, also alluring as a cost-saving option.
5. Fig cakes
In 2017 it was elaborate florals and nearly naked cakes. In 2018 it's all about figs.
Expect to see cakes with minimal metallics, white frosting, and figs as a focal point.

Fig decorated cakes will be big in 2018. Photo / Getty Images
6. Midnight feasts
All that dancing at weddings leaves you with a serious appetite as the clock strikes midnight.
And it looks like couples are increasingly concerned with feeding their guests into the wee hours as searches for midnight snack bars increased by 236 per cent - bring on the hot dogs and sliders.
7. Pretzel bars
An alternative to the midnight snack bar, the pretzel bar means guests can indulge their cravings at any time.
Get creative and display your pretzels on a wall or hang them on hooks.

Pretzel bars are set to keep wedding guests happy in 2018. Photo / Pinterest
8. Hanging florals
Suspending florals from the ceiling of your venue is a fun way to save space on the table, create a serious decorative impact and apparently ensure you're wedding is "on trend".
9. Natural backdrops
Say goodbye to flower walls and hello to breathtaking scenery in 2018.
Couples will be looking out for unique locations and scaling down on ceremony decorations.

Breathtaking scenery is sure to impress guests. Photo / Getty Images
10. Stylish arrivals
Becuase showing up for your wedding in a car is no longer acceptable. The contemporary couple is after something far more exciting: Think boat arrivals, a helicopter or a hot air balloon to really make an entrance.
This article was first published on NZ Herald and is republished here with permission.