Northland swim spots among the top ten in NZ!
Publish Date

Saturday, 24 October 2015, 8:37AM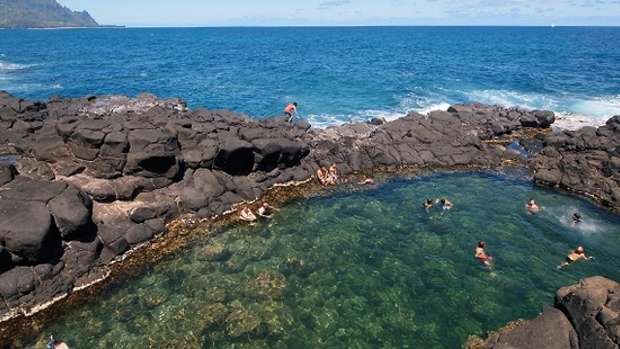 Two popular Northland swimming spots have been named among the top 10 places in New Zealand to take a dip.
Packing up the togs and towel and heading out for a swim is a Kiwi summer tradition so to help people find the best sports the editorial team at AA Directions pulled together 10 of its favourite summer swimming holes to help.
The list features in the latest issue of AA Directions and adds to the overall theme of celebrating New Zealander's love of water. The magazine is being delivered to about 580,000 letterboxes of AA members nationwide.
Meanwhile, Urupukapuka Bay in the Bay of Islands made the magazine's "summer on the water" list for the finest "water access only" beach and camping spots, and the 26m Whangarei Falls is named in the top four North Island "walks to waterfalls" list. "Having the two swimming spots listed in the Top 10 is wonderful for our region, and then to have the other two sites in Whangarei and at Urupukapuka Island is the icing on the cake," says Northland Inc general manager, regional promotions, Paul Davis.
Northland is the only region with two swimming spots in the top 10 - The Mermaid Pool at Matapouri and Rainbow Falls in Kerikeri.
Rainbow Falls is a 27m waterfall located on the Kerikeri River near the town, while the Mermaid Pool, close to Rangitapu Pa north of Matapouri Bay on the Tutukaka coast, is a deep rock-pool best accessed at low tide. "What we love about swimming holes is that they're not always easy to find, so stumbling across one is like finding a hidden gem," says AA Directions editor Kath Webster. "Included on our list are a few spots that came highly recommended by AA members."
Of Rainbow Falls the magazine says an easy 20-minute return walk through native bush leads to these falls and swimming hole.
"These falls reveal spectacular sights with at least three viewing platforms along the track. The walk is relatively easy and is also wheelchair accessible." With regards to Mermaid Pools it says: "Around the rocks from the beach, this rock pool is easiest to access at low tide."
The other eight top swimming spots are: Karekare Falls, Waitakere, Auckland; Bulli Point, Lake Taupo; Blue Spring, Putaruru, Waikato; Kerosene Creek, Rotorua; Mosquito Point, Whanganui; Pelorus Bridge Scenic Reserve, Marlborough; Cleopatra's Pool, Abel Tasman National Park and Lake Rotoiti, Nelson Lakes, South Island.