Watch: Boy George Walks Out of Seven Sharp Interview
Publish Date

Friday, 4 November 2016, 8:12AM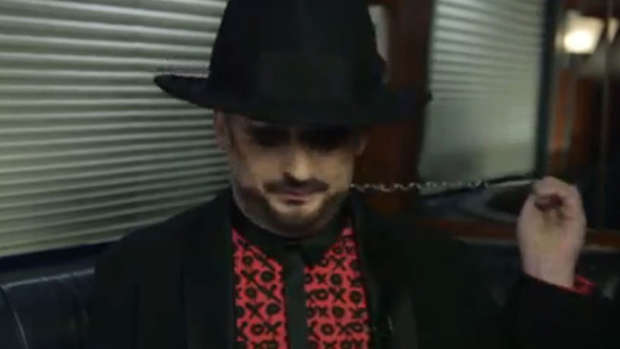 Toni Street has explained what happened during her "shocking" interview with Boy George, who ripped off his microphone and walked out on the Seven Sharp presenter.
The Culture Club star was talking to Street about his upcoming New Zealand tour, which now includes just a single show at Vector Arena in Auckland on December 4.
The Culture Club star was also scheduled to perform at Christchurch's Horncastle Arena on December 2, but promoter Stewart Macpherson last night said the show had been cancelled "due to changes to the international touring schedule for Culture Club".
In an "exclusive" interview to promote the Auckland show, a seemingly gentle chat with Street soon got fiery when Boy George took off his microphone and ended the interview.
"You know what, why don't you move on to something more helpful, you know what I mean?" he exclaims. "In fact, you know what ... thank you."
He then fumbled around to remove his ear piece and his lapel microphone.
George's response was to a question about his 2009 conviction for assault and falsely imprisoning a male escort.
"I was genuinely shocked when that happened, because we had had such a good interview up until that point," Street told viewers after the interview aired.
"There was nothing that led me to believe that he was even remotely uncomfortable talking about it, and because we'd talked about the immigration issues we felt like it was relevent. It was a real shame because he was very likeable."
When Street's co-presenter Mike Hosking suggested she arrive at the airport with a gift basket for George, she replied: "Somehow I think he's done with me."
George has since tweeted about his "stinking interview" with a New Zealand reporter.
Just did a stinking interview for New Zealand which I ended @RobertDowneyJr style! Now I need my own movie franchise!

— Boy George (@BoyGeorge) November 2, 2016