Northland fisherman's close encounter with great white shark
Publish Date

Friday, 22 January 2016, 9:34AM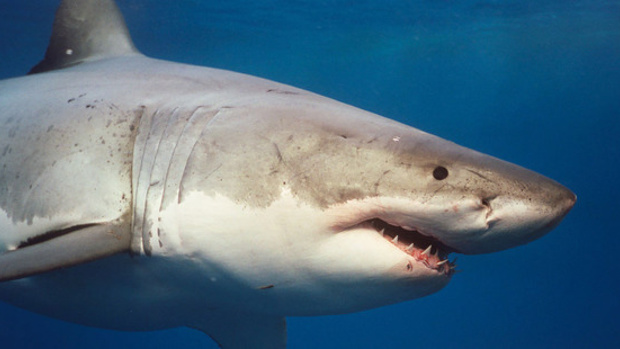 As Northland fisherman Philip Wilson watched a 4m great white shark chomp into the decaying carcass of a whale, he was not fearful but in awe of the massive fish.
Mr Wilson, his wife Debbie and 16-year-old nephew Brad were just metres from the action that could have easily been seen on a shark documentary on TV.
The close-up encounter happened on Sunday about 3pm when the trio were fishing about 1km off Takou Bay, about 30km north of Kerikeri.
Mr Wilson, from nearby Tapuaetahi, said he spotted a "blob" floating in the water and went to investigate.
It quickly became clear the blob was a decaying whale, so badly decomposed the species could not be identified.
While the rotting whale was giving off a putrid stench it did not deter the great white.
"We realised it was a floating dead whale, there was no way you could tell what it was. Then a big, big, big shark swam around our boat," Mr Wilson said. "When I saw the shark I thought it was awesome. It swam up to the boat and around the back. He was never really threatening but let us know the whale was his."
Out came the cellphones to capture the shark as it swam close to the boat then began feeding on the whale.
Mr Wilson, also an experienced deep sea angler, said while he had seen a number of large mako sharks, the great white was the biggest he had seen and estimated it was more than 4m in length. When they left, the shark swam about 100m behind their 18ft fizz boat and followed them for 400m.
"It was zig-zagging behind the boat, just under the surface. We could just make out its big black shape. Then it went back and got stuck back into the whale," recalled Mr Wilson.
Mr Wilson got in touch with Auckland-based shark docu-mentary maker Mike Bhana, who confirmed it was a great white shark. "He said if there was one it was likely there were more," Mr Wilson said.
The whale remains washed up on the south end of Takou Bay on Monday and were buried by locals.
Takou Bay may be somewhat remote but is significant to Maori as the great waka Mataatua rests there.