Oil Spill Ship Detained In Port
Publish Date

Wednesday, 2 December 2015, 9:39AM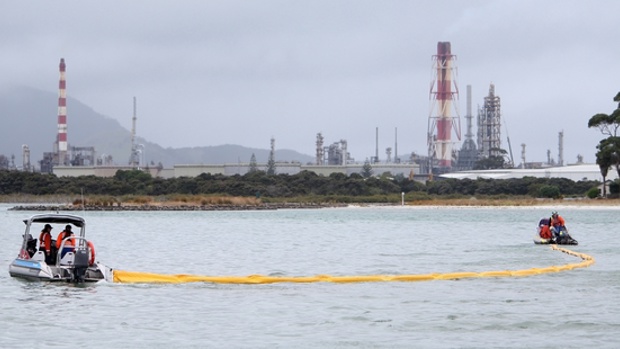 A ship responsible for leaking around 7000 litres of fuel oil into Whangarei Harbour has been detained by Maritime New Zealand.
The owners of the Ningpo, berthed at Northport, Marsden Point, are flying a team from Singapore to investigate the source of the leak in the mixed container and cargo ship.
Maritime New Zealand will not let the ship leave New Zealand until its tanks and hull have been cleaned and the source of the leak addressed.
At 8.30am yesterday morning, a slick of oil was seen at the port drifting on the incoming tide toward the beaches inside the harbour on either side of the Marsden Cove Marina entry.
A rapid response from specialist clean-up teams, involving dozens of workers from Northport, Refining New Zealand and the Northland Regional Council (NRC), managed to catch most of the oil in containment booms placed around the vessel.
The contamination - and patches of slick that developed nearby - was then removed from the surface with skimming equipment on the NRC's purpose-built barge Taranui.
Disposable booms, designed to catch oil, were also floated around sludge the incoming tide carried on to the shore. But, by midday, there was a wide, ugly black streak left at the high-tide mark along several hundreds of metres on the beaches' white sands.
Dozens of overall-clad workers used blotting equipment, diggers and spades to scrape up contaminated sand and they literally hand washed rocks at the marina entry.
Meanwhile, another skimming operation took place off Snake Bank, near the harbour channel, clearing up patches of oil being carried in that direction on the outgoing tide.
The clean-up was practically complete by late afternoon, incident controller NRC harbourmaster Jim Lyle said.
While the spill's origin was still under investigation by NRC and Maritime New Zealand staff last night, the primary focus yesterday had been on containing the oil and protecting the environment.
Mr Lyle said it is too early to say what - if any - enforcement action might be taken in the wake of the incident. "Again, at this stage, our current focus is on containment and recovery."
Northport confirmed the Ningpo was officially identified as the source of the leak and her owners were flying a technical team from Singapore to investigate how it occurred. Work on cleaning the hull and tanks, as ordered by Maritime New Zealand, was under way last night.