Rain and labour shortage delaying kumara harvest in Northland
Publish Date

Tuesday, 1 May 2018, 3:04PM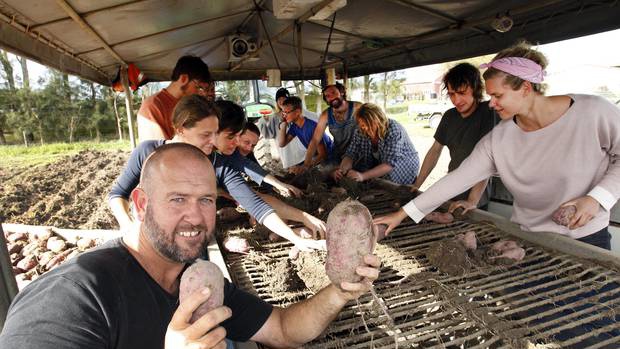 Wet weather and "the worst labour shortage in 20 years" are delaying the harvest of kumara in Northland and costing growers more to employ casual workers for longer.
With a less than normal supply this season, supermarkets have raised kumara prices and the situation is likely to persist until the next harvesting season early next year.
The retail price in supermarkets of red, orange and gold kumara is up to $9 per kg and could rise higher if the crop is delayed further.
On average, a kumara grower in Dargaville, Ruawai and Te Kopuru can harvest up to 120 tonnes a day but less than that during rain or when there's a labour shortage. There are about 60 kumara growers in those areas.
Dargaville kumara grower Grant Suckling said it has been an "absolute nightmare" to get labourers this harvesting season, following a difficult time last season.
Suckling, president of Northern Wairoa Vegetable Growers' Association said it has been the worst labour shortage in the nearly 20 years he has been a kumara grower.
Six from the up to 30 of his labourers are backpackers but he needs 14.
"In other seasons I've put in ads and I could get 20 to 30 emails a day from backpackers looking for work. After three days you have to shut down the ad. Now you get only three or four responses a day.''
Many locals and those from other parts of Northland were not always reliable, or had drugs and alcohol issues, forcing kumara farmers to hire backpackers, he said.
Suckling said a normal kumara harvesting season ran from early February until around mid-May but less workers this year meant it may drag until late June or even July.
"You then run the risk of frosts coming in apart from having to incur costs like paying wages the longer the harvesting drags on. It creates a lot of stress and it's hard to produce what the country needs."
He said big dumps of rain in January and February saturated the soil and made kumara harvesting difficult.
"We have to clean every kumara off the vine and clear mud off it. It's very labour intensive. The tractors pulling the harvesters run at half their speed in rain." Suckling said.
He harvests 50 tonnes of kumara on an average day but that quantity is down in wet weather although he couldn't give an exact number.
Despite being short on labour, Suckling was able to finish harvesting his crop last week after starting work in January and working extra hours. He said a shortage of labour has caused kumara prices in Northland to rise.
Suckling said other fruit growers, especially in the central North Island, were also short on labour.
Kumara can rot when they are waterlogged or exposed to frosts. Delays in harvesting can also cause skin disease.
Grant Suckling's uncle Warren Suckling, who has been growing kumara for more than 30 years in Dargaville, is one of those fortunate to secure about 30 backpackers to harvest the crop this year.
"There are locals who need jobs and last year we put up ads wanting them to work on kumara farms but they let us down. We desperately need good labour and how wonderful it is to have these backpackers in our district," Warren Suckling said.
He said Dargaville needed about 1800 extra workers on a casual basis to work on kumara farms.
For more information, check out the Northern Advocate