Ruakākā Dog Rescue call sees kennels made for needy dogs
Publish Date

Sunday, 29 July 2018, 8:39PM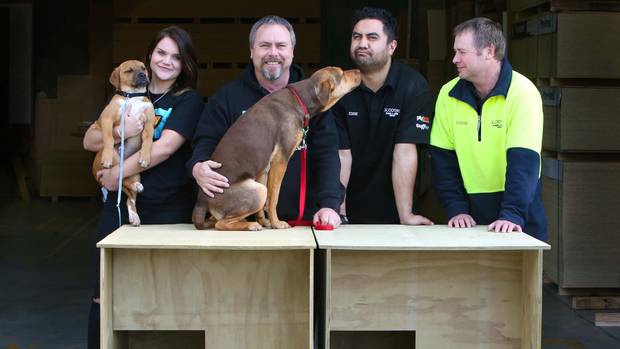 Thanks to a passionate group of canine lovers and the generosity of Whangārei businesses, 10 dogs will get new homes for free.
A dozen volunteers with the help of an experienced builder will construct the last of the new canine abodes today.
Event organiser Michelle Payne said she was spurred into action after seeing a post on Facebook about dogs not having decent kennels to shelter in during some cold winter weather.
Ruakākā Dog Rescue desperately needed help to get dog kennels as Jax Boyd, on her travels around Ruakākā, noticed some dogs were less fortunate and wanted some help in improving their living conditions.
"Seeing some of these dogs not able to keep dry in some pretty wet Northland winter weather was heartbreaking. So I decided I would appeal for help on Facebook and that's when Michelle got in touch."
Payne said local businesses were only too happy to donate materials.
''I saw it on Facebook and it made me cry, so I thought 'stop crying and do something about it','' she said.
Scooters Plywood even created a plan, built a prototype and completed five kennels for the project. ITM and Placemakers have come on board, as has Fortress Fasteners which is supplying all screws.
City Motorhomes and Caravans are providing its workshop for the build today and the remaining kennels will be put together there.
The woodwork class at Tauroa Area School has also knocked together a kennel which is being donated.
"It's amazing what the community can do if you put a call out," Payne said.
Some of the kennels will go to dogs in Ruakaka while some will be providing homes for dogs in Otangarei.
Boyd said she was overwhelmed by the response from Payne and all the other individuals and businesses involved.
The dog rescue centre provided food and help for dog owners who were struggling to provide everything their pet needed.
"I noticed that many of the dog owners did not have very good kennels for their dogs.
"They'd often made them with material that wasn't the best so they'd leak or be damp, so I thought we'd try to get some help providing kennels. So we put word out,'' she said.
''The response has been amazing.''
This article was published on The Northern Advocate