Publish Date

Thursday, 22 April 2021, 9:10AM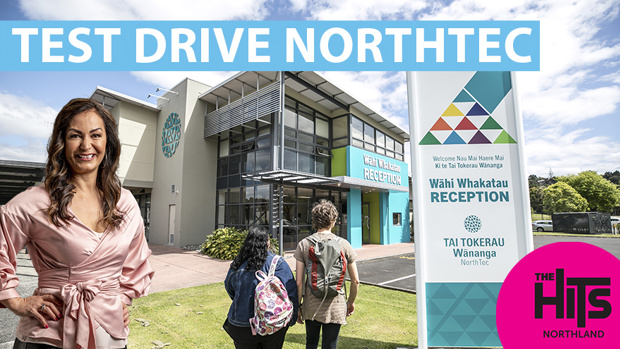 Charmaine always kicks off the year with learning something new, this year promo boss Dillon became aware of this and contacted the team from NorthTec and "Test Drive NorthTec" was born!

Charmaine is preparing to return to study on May 10th at NorthTec so join us on the journey as she goes through all the nerves and preparation to Test Drive NorthTec! 
NorthTec is your local tertiary provider, so if you are looking at future study or even just want to upskill in a trade of your choice, check out the amazing range of courses online at NorthTec.ac.nz now!
Proudly supported by NorthTec! 

PROMO BOSS DILLON TELLS CHAR SHE IS GOING TO TEST DRIVE NORTHTEC
CHAR CHATS WITH REBECCA FROM NORTHTEC
CHAR CHATS WITH A STUDENT WHO HAS JUST RETURNED TO STUDY AT NORTHTEC
CHAR CHATS WITH HOANA FROM NORTHTEC STUDENT VOICE
---
BLOG 1: Oh my god I'm nervous
Each year I like to see what new things I can learn, and after the mess of last year, I've blinked and all of sudden it's almost May! So over the last few weeks on my show I've been talking about it, listening to callers telling me about their returns to study and things like that.
Last Friday, my promo boss Dillon came into the studio and let me know that he's been talking with the amazing team from NorthTec, and now, I'm going to Test Drive NorthTec!
Yep! Charmaine is heading back to class! I'm a weird combination of excited and nervous. Now I have to sift through some of the AMAZING courses they have on offer and pick one.
I think I'm most nervous to think about sitting in a class again, but the issue is, I'm not 27 anymore. Do people my age even go back and study? Like I said, I'm excited and nervous. But I'm ready to go on this journey!
BLOG 2: Am I too old for this?
Am I too old to study? I've asked myself this so many times over the last little while ever since I was told that I'm heading to Test Drive NorthTec.
I had a conversation last week on my show with Logan who is a student who has just returned back to study after a few years overseas and she's really helped to my mind at ease and told me that roughly 50% of her current class are aged over 50!
She's been so great and even gave me a few little hints about how amazing the coffee is from the local tuck shop, is that what they call it? Tuck shop at NorthTec's Raumanga Campus – and I LOVE coffee.
I'm excited, I genuinely am, the best part is that I get to bring you along the journey too! I'm going to be off air for one day next week and on that day I will officially be Test Driving NorthTec! 
---
CHAR TEST DRIVES NORTHTEC