Whirlwind Trip Feels Like It Didn't Happen
Publish Date

Monday, 23 November 2015, 6:41PM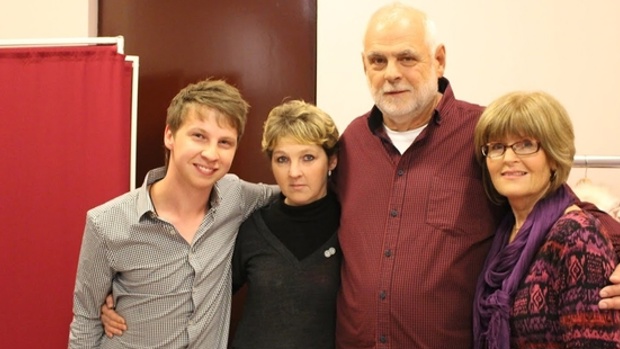 It was a surreal moment for Alex Gilbert when all four of his parents were in one room together for the first time - even more so because it happened on the set of Russia's most popular talk show.
The Whangarei 23-year-old and his adoptive parents, Mark and Janice Gilbert, thought it was a scam when the young man woke to seven missed calls from a Moscow television station saying, "Come to Russia".
"I said to my mum and dad, you're going to thinking this is crazy," Mr Gilbert said. "They said it sounds like a scam. The station was flying us to Russia and going to pay for everything."
But, within a week, the family had had special visas rushed through the Russian Embassy and were on a plane, bound to feature alongside Mr Gilbert's birth parents - who also hadn't seen each other in 20 years - on Russia's Let Them Talk show.
"I wasn't allowed to see my birth mother and father and they weren't allowed to see each other before we went on [set]," Mr Gilbert said.
"I was really nervous, I had to be all prepared on what to talk about ... the host is very famous in Russia. I got on stage and he asked me questions about my story and they started showing videos of me."
Mr Gilbert was adopted as a 2-year-old from an orphanage in Archangelsk, Russia in 1994 and had always been curious about his birth parents, eventually travelling as a 21-year-old to meet them, flanked by TVNZ reporters.
He has featured in the Northern Advocate several times over the past year, recounting his journey in 2014 to meet his birth parents and a subsequent online project - "I'm Adopted" - to connect other adopted people with their birth families.
This story was picked up by at least eight Russian news outlets, followed quickly by the talk show invitation. Mr Gilbert said, looking back on last week's whirlwind trip, "It feels like it didn't really happen - it all happened so fast."
He recounted his bizarre family reunion in front of a studio audience. "My birth mother Tatiana came out onto the stage and I hadn't seen her [since 2014]. A few people in the audience were saying 'Why did you do this to Alex?' I had a synchronised translator in my ear. Tatiana answered all these questions.
Then mum and dad came out and sat down, they met Tatiana and birth dad (Mihail) and it was a bit weird - they all hugged each other on TV. Mihail brought all these flowers and gave them to my birth mother. They hadn't seen each other in 20 years. It was all a bit crazy to be honest."