Here's what happened when Stace & Flynny sent producer Juju to meet Meghan Markle ...
Publish Date

Wednesday, 31 October 2018, 3:36PM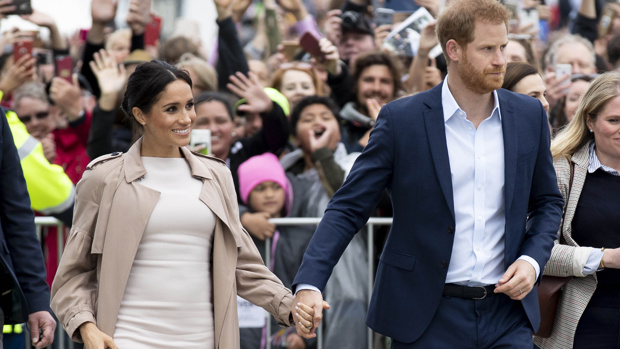 As more than a thousand people gathered at the Viaduct Harbour in Auckland to catch a glimpse of Prince Harry and Meghan Markle yesterday afternoon, so did producer Juju, Laura McGoldrick and The Hits web girl Ashlee.
Armed with a bouquet of Meghan's favourite flowers - peonies and sweet peas - the excited trio made their way down to Wynyard Quarter at midday to secure a front row spot.
Continuous heavy rain throughout the day kept threatening to make things difficult, but huddling under umbrellas kept the girls somewhat dry.
READ MORE:
• Meghan Markle wows Kiwi fans by speaking te reo in speech
• Kate Middleton and Prince William step out with Prince Louis for the first time in months!
Soon after 4pm, the royal couple arrived and the crowd erupted with excitement as they stepped out of the motorcade to greet Prime Minister Jacinda Ardern and Mayor Phil Goff.
Dressed in a beige pencil dress with a light brown overcoat, the Duchess made a beeline for the girls after Prince Harry pointed over to the bouquet.
As producer Juju handed over the flowers, she made special mention of the sweet peas.
"We got you these flowers and they've got sweet peas in them, which featured in your royal wedding bouquet," Juju explained.
"What a good memory! And peonies. These are gorgeous," Meghan replied as she thanked the girls.
"Thank you. That's so thoughtful."
As the Duke and Duchess walked away, the girls were left buzzing with royal fever.