Here's how Meghan Markles's wedding compared to Princess Diana's and Kate Middleton's...
Publish Date

Saturday, 19 May 2018, 11:03PM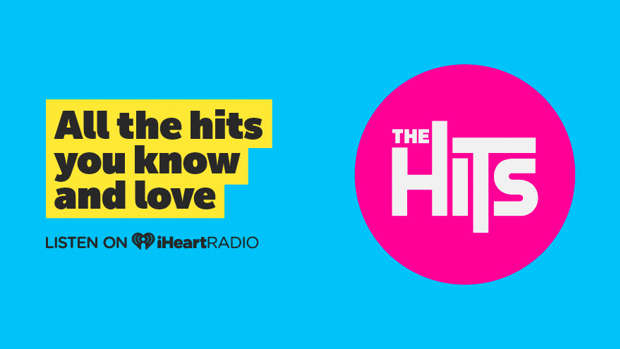 Over the past four decades, we've been lucky enough to witness three beautiful royal weddings.
And while each couple followed royal traditions established by the monarchy, the wedding's have varied immensely!
From the tiaras to the cakes, we take a look back at the weddings of Princess Diana to Prince Charles in 1981, Kate Middleton to Prince William in 2011, and Meghan Markle to Prince Harry in 2018 to see how they all compare...
The Wedding Party: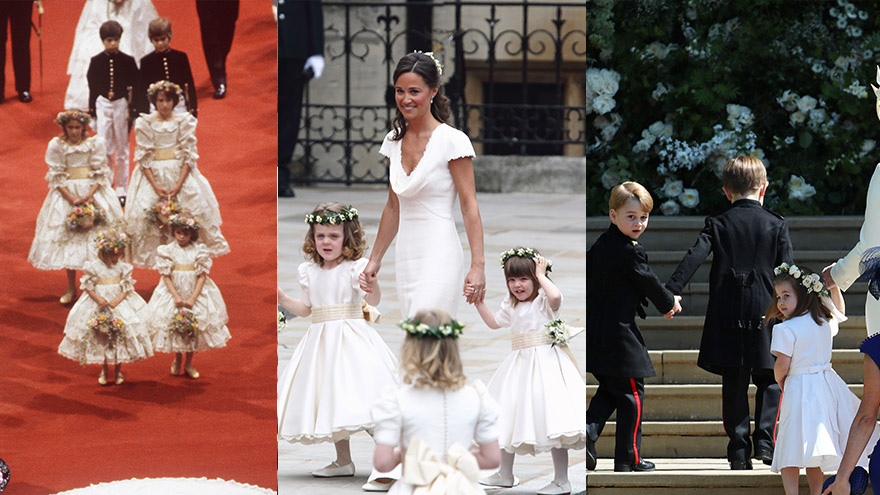 All three brides had very different bridal parties.
Diana's wedding party consisted of the daughters of important royal friends, whereas Kate's was less traditional with her sister, Pippa Middleton, as her maid of honour.
As you saw over the weekend, Meghan had the largest party to date, with four page boys and six little bridesmaids - which included both Prince George and Princess Charlotte amongst other friend's children. 
The Cake: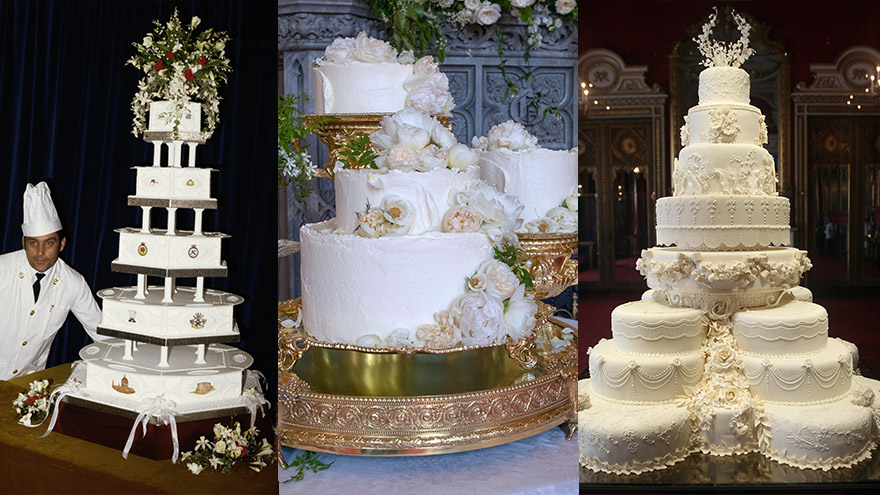 There were some major differences with Meghan and Harry's wedding cake.
Opting for a less traditional dessert – the newlyweds chose to serve an elderflower sponge cake rather than a traditional fruitcake. Amazingly, this was the first royal wedding to do so. 
Even more interesting, was their choice to display the cake on freestanding tiers.
Diana and Charles' had a 'simple' five-foot-tall fruit cake with cream cheese icing.
While Kate and William had an impressive 8-tiered fruitcake with white icing and sugar flower decorations.
The Procession:
All three post-wedding processions included the bride and groom transported in an open-air Ascot Landau horse-drawn carriage.
The Duke and Duchess of Cambridge's carriage ride through central London followed a similar route to the Prince and Princess of Wales.
Whereas the Duke and Duchess of Sussex showcased a new route, as their wedding was held in Windsor. 
READ MORE:
• Meghan Markle conforms to royal protocol on first official appearance as the Duchess of Sussex
• Prince Harry and Meghan Markle's official wedding photos have been released and they are so sweet
Kate and William opted to use the same carriage as Diana and Charles had used.
While Meghan and Harry rode in a different carriage, in keeping with their respective wedding theme.
The Bouquet: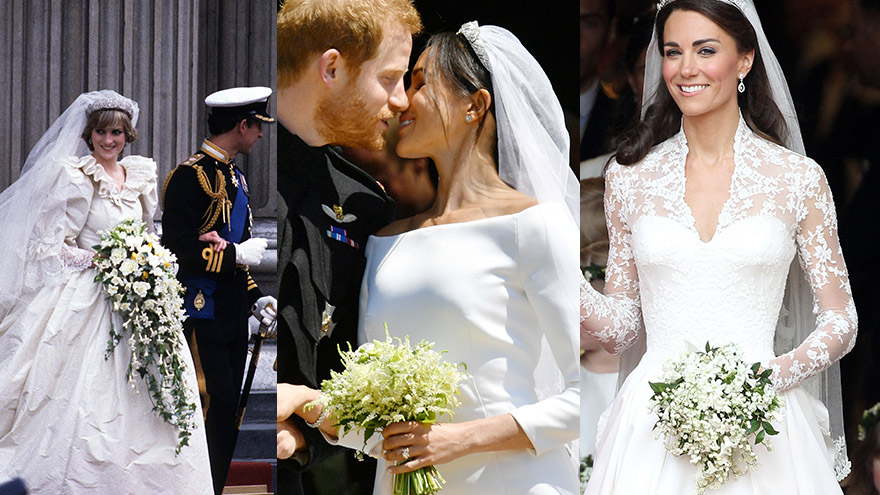 All three brides chose simple but beautiful white floral bouquets - in varying sizes. 
All three contained a sprig of myrtle which is the symbol of hope and love. Meghan's also reportedly included forget-me-knots handpicked by Prince Harry.
Beauty: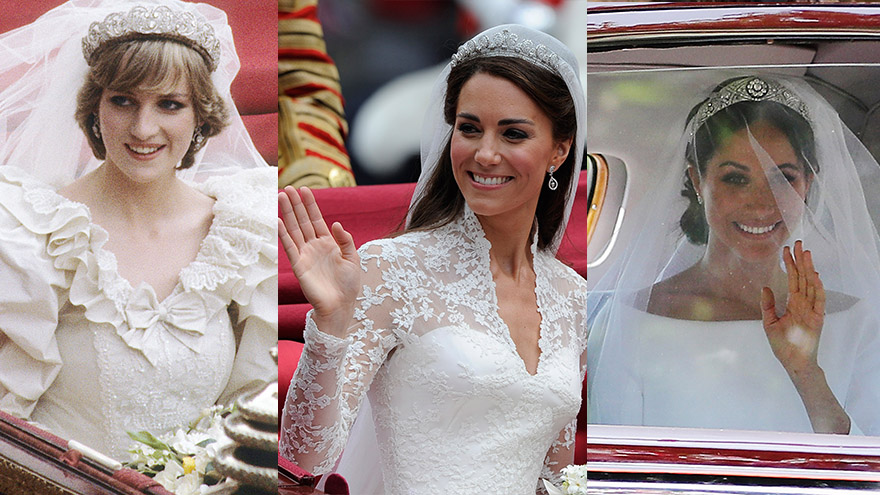 Both the hair and makeup of all three brides slightly varied.
Diana wore her short hair down, and Kate Middleton sported a half-up half-down style. Meghan Markle wore her hair up in a low (slightly messy) bun.
Meghan's makeup approach was also a bit more natural than either Diana or Kate's.
Kate chose to do her own makeup for her royal wedding, and went with a bolder look similar to that of Diana's.
The Engagement Debut: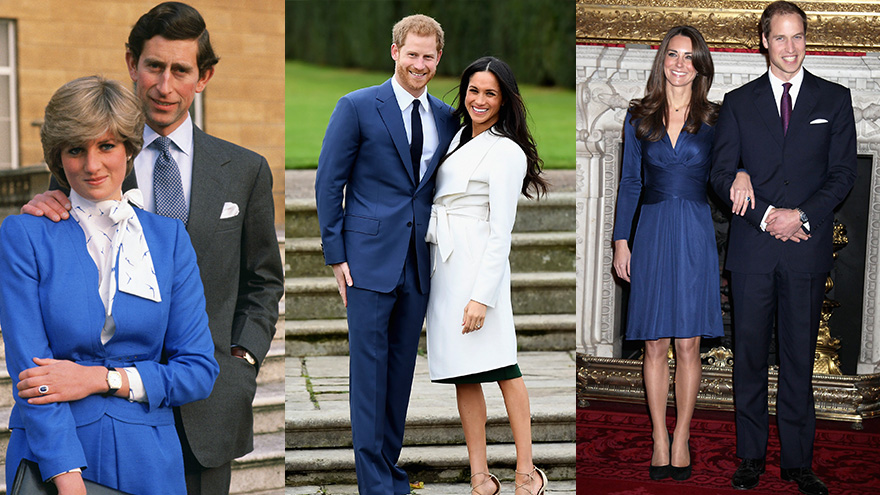 Anyone else notice a colour trend going on here?!
On their debut as royal brides-to-be, Diana, Kate and Meghan appeared stunning and stylish in timeless ensembles.
The Dress: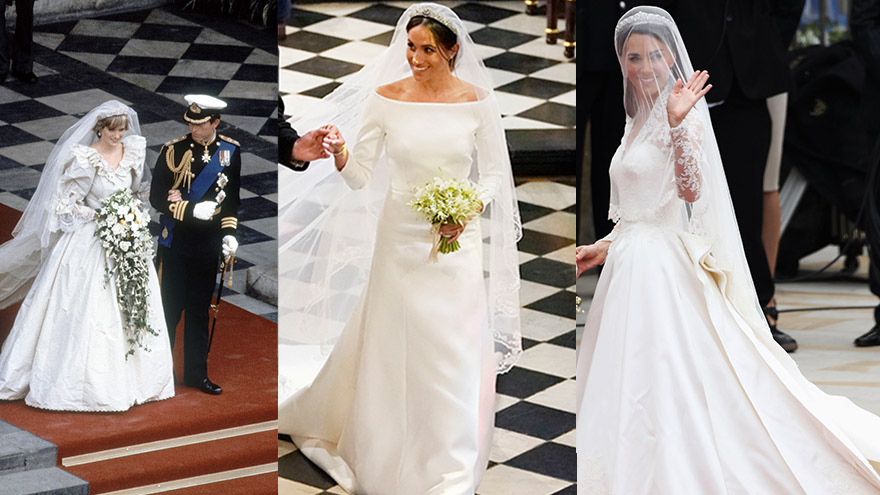 If there's one thing that lets you know Princess Diana was married in the 80s, it's the dress.
Her puffy-sleeved gown was made by a London based husband and wife designers - David and Elizabeth Emanuel. Antique lace, 10,000 pearls, and a whopping 25-foot-long train completed the jaw-dropping ivory taffeta dress.
Kate Middleton wore the now-iconic Alexander McQueen lace long-sleeved dress, while Meghan opted for a minimalist Audrey Hepburn-esque bridal gown.
The Tiara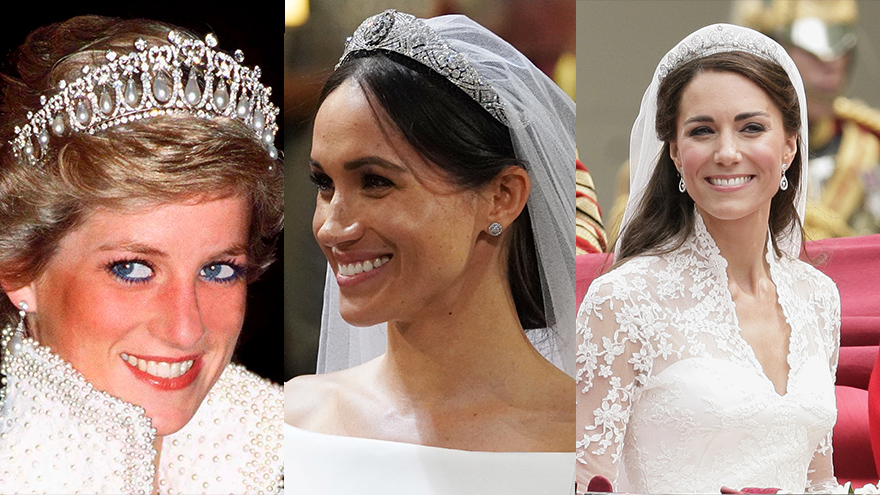 All three brides chose to wear tiaras on their respective days.
To complement her gown, Diana wore a cathedral-length veil with the Spencer family tiara, an 18th century-era heirloom loaned to Diana by her father - which reportedly features a combination of royal family jewels and heirlooms.
Kate went with a modest, mid-length veil made of ivory silk tulle. Her tiara, the Cartier halo, was also loaned to her - but this time by the Queen. Featuring almost 1,000 diamonds, it was originally gifted to Queen Elizabeth on her 18th birthday by her father, King George VI.
Meghan also borrowed one of the Queen's pieces, wearing the Queen Mary Diamond Bandeau. The bandeau, which is made of diamonds and platinum, is formed as a flexible band of eleven sections, pierced with interlaced ovals and pavé set with large and small brilliant diamonds. The centre is set with a detachable brooch of ten brilliant diamonds.
Meghan paired the tiara with a silk tulle 16-foot-veil.
The First Kiss: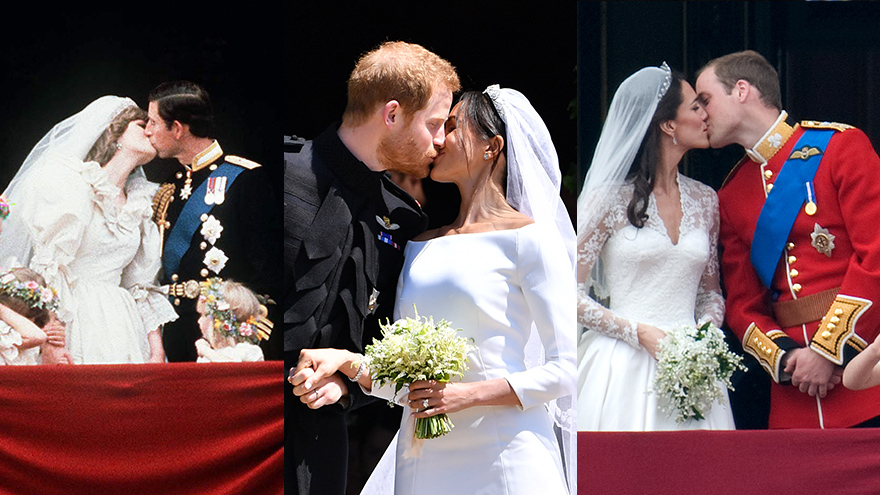 Now for the iconic shot that goes down in history each time.
Both the Prince and Princess of Wales and the Duke and Duchess of Cambridge shared their first kiss on the balcony of Buckingham Palace.
Meghan and Harry shared a few adorable kisses before this snap, but sealed the deal with a smooch on the steps of St George's Chapel.