Royal Wedding 2018: Here are all the details you need to know about Harry and Meghan's big day
Publish Date

Friday, 18 May 2018, 11:47AM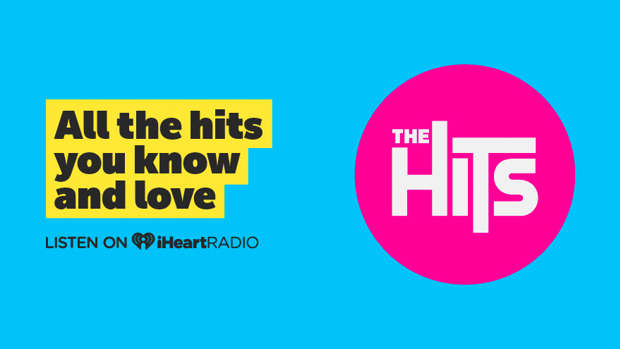 It's been a tumultuous - some may even say scandalous - week in the lead up to the royal event of the year.
But amid the drama spurred by the Markle family, preparation for the marriage of Prince Harry to Meghan Markle is in full swing.
This Saturday, May 19, is set to be the biggest day in the romantic calendar, broadcast to the world from the UK town of Windsor.
So dust off your tiara, polish up your best tea set and get clued up with our guide to the royal nuptials...
THE SERVICE
The wedding will be held at St George's chapel inside Windsor Castle starting at midday UK time (11pm NZT) — and the royal family likes to run on time. The service will be conducted by Reverend David Conner and officiated by Archbishop of Canterbury Justin Welby, who baptised Meghan Markle in a top secret service.
Following the ceremony the couple will ride through the Windsor's narrow cobbled streets - likely lined with royal fans - in the Ascot Landau carriage, escorted by the Household Cavalry Mounted Regiment.
The wedding reception will be held at St George's Hall, followed by a private evening shindig at Frogmore House. It has been reported by TMZ that Elton John will perform for the new bride and groom, but it is unclear whether that will be at the ceremony or later at the reception.
HOW CAN I WATCH IT?
The wedding ceremony will be broadcast on TVNZ 1 from 9:05PM or live streamed at tvnz.co.nz. Guests will arrive from 8.30pm NZT, while the ceremony itself will start at 11pm NZT.
WHO'S INVITED
The Telegraph reports that the royal couple have invited 2,640 people in to the grounds of the oldest inhabited castle in the world for their big day. That includes 1,200 members of the public, 200 charity members Meghan and Harry have worked with and 100 students from local schools.
However many of those will be outside the chapel listening to the service via speakers. The capacity inside is for 800 people, with 600 invited for lunch and another 200 invited to a private evening reception.
It's also not yet known if Prince Philip, the Queen's husband will make it, he has recently had hip surgery, although the couple "very much hope" he will.
Princess Diana's siblings will be in attendance too. Her sister, Lady Jane Fellowes, will do a reading in what is likely to be an emotional moment.
Unlike Prince William and Kate's 2011 wedding, Harry and Meghan's is not classed as an official state event, so it's unlikely we will see any Heads of State or politicians in attendance.
Former US President Barack Obama is unlikely to be there, despite being close friends with Prince Harry.
But some other famous faces including the Spice Girls, Elton John, and Prince Harry's exes, Cressida Bonas and Chelsy Davy are set to attend, along with Meghan's ultra-glam crew of besties Jessica Mulroney, Priyanka Chopra and Misha Nonoo.
THE BRIDAL PARTY
The Duke of Cambridge, Prince William will be best man, Meghan Markle will not have a maid of honour.
The bridesmaids and pageboys are "all children" Kensington Palace has confirmed.
On Wednesday, it was announced the bridesmaids are Princess Charlotte, Florence van Custem, Remi Litt, Rylan Litt, Ivy Mulroney and Zalie Warren. The pageboys are Prince George, Jasper Dyer, Brian Mulroney and John Mulroney. While Prince Louis will be kept at home.
Royal siblings Prince George and Princess Charlotte already know the score - they performed those roles at the wedding of Pippa Middleton, the Duchess of Cambridge's younger sister, to James Matthews in May last year.
Prince Harry has paid tribute to former mentor and close friend Mark Dyer by requesting his son Jasper as a pageboy, while Ms Markle has publicly recognised one of her best friends, stylist Jessica Mulroney, by choosing her twin sons to take part in the wedding.
INVITES AND DRESS CODE
Luxurious invites on dye-stamped card have been produced by royal warrant holders Barnard & Westwood. They include the three-feathered badge of Prince Charles, with guests names added by a calligrapher.
The dress code for men is uniforms, morning coats or lounge suits, while women are to wear "day dresses" and hats.
Prince Harry could either wear his military uniform, as Prince William did at his wedding, or a simple morning suit.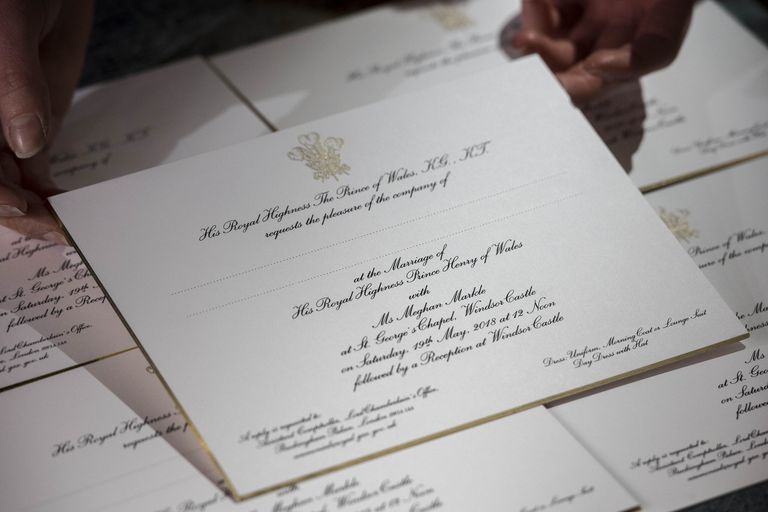 As well a dress code, the guest list also reportedly includes 'critical guidance' for the big day.
The instructions ban cameras and bulky bags, adding that guests will be asked to "surrender mobile telephones and any devices used for image capture". They further specify that guests should not wear medals, in a list of suggestions about accessories that includes: "No swords."
THE DRESS
Meghan's dress is reported to be a $180,000 beaded creation by London-based Australian designers Ralph & Russo. The duo was behind her engagement outfit and has also dressed Beyonce, Rihanna, Angelina Jolie, Kylie Minogue and Gwyneth Paltrow.
The brand was started by Tamara Ralph who graduated from the Whitehouse Institute of Design in Melbourne and met banker Michael Russo in 2003 before launching the company in 2006.
The designers have beaten other top designers, Stewart Parvin, Roland Mouret, Erdem and Alexander McQueen, but like Kate did, Meghan may have a second outfit lined up for the evening reception.
THE CAKE
Instead of traditional fruit cake, the cake will be a lemon elderflower concoction by Claire Ptak, the owner of London-based bakery, Violet. It will be designed to "incorporate the bright flavours of spring", covered in butter cream and decorated with fresh flowers.
The California-raised chef started her business with a market stall, cooking from home and now works as a food stylist and writer. Meghan has previously interviewed her for her lifestyle website, The Tig.
FLOWERS
Flowers will include seasonal branches of beech, birch and hornbeam, as well as white garden roses, peonies and foxgloves grown especially on the Windsor estate. They will be designed by self-taught florist Philippa Craddock, with some pollinator-friendly plants also sourced from the Royal Parks.
After the wedding, the bouquets will go to charity. Ms Craddock, who has also arranged flowers for Christian Dior and the wedding of Ronan and Storm Keating, said it's been an "absolute pleasure" to work with the couple.
READ MORE:
• These are the 9 strict rules every royal wedding guest must follow this weekend...
• It looks like THIS could be Meghan Markle's wedding dress
SPEECHES
The prince will be putting pen to paper to write his speech for their reception. But Ms Markle, who is an accomplished public speaker, is expected to break with tradition and deliver her own as well, offering "affectionate" praise of her new husband, thanks to the Queen and a few suitable jokes.
According to the Telegraph, at the wedding of the Duke and Duchess of Cambridge, reception speeches included words from best man Prince Harry, the groom's father the Prince of Wales and Michael Middleton, who affectionately described how he knew his daughter's relationship was serious when her boyfriend landed a helicopter in his garden.
SECURITY
Stalkers, snipers and terror attacks are a huge concern for police amid what will be the largest security operation in Windsor's history. More than 100,000 people are expected to pour into the medieval city and will have to pass through a "ring of steel" to enter.
Police will have a network of automatic number plate recognition technology, CCTV and "hostile vehicle" barriers along with "many security measures you can't see" in place. Dogs, mounted units and the national air police service will also be used.
THE ARMY
More than 250 people from army regiments associated with Prince Harry will play a ceremonial role, including members of the Household Cavalry, the State Trumpeters and a Captain's Escort.
The streets will also be lined with members of the Royal Navy, Royal Marines, Gurkha rifles and other units. Prince Harry joined the army in 2006 and became a Captain over the course of two tours in Afghanistan.
MUSIC AND PHOTOS
Music at the chapel will include a mix of choirs, an orchestra, trumpeters and 19-year-old cellist Sheku Kanneh-Mason, who Meghan personally phoned to ask him to play.
Official photos will be taken by Alexi Lubomirski, a renowned fashion photographer who was also behind their engagement photos at Frogmore House.
"I could not be more thrilled or honoured to photograph this historic occasion. Having taken Prince Harry and Ms Markle's engagement photos, it brings me such joy to be able to witness again, the next chapter in this wonderful love story," he said.
STREET PARTIES
The wedding will take place on the same day as the FA Cup final and is expected to be a huge event in the UK, with the BBC waiving their licence fee to allow people to watch the celebration.
Drinking laws will also be relaxed to allow pubs across England and Wales to keep serving until 1am rather than 11pm for the night of Friday, May 18 and Saturday, May 19. Despite being under the flight path for Heathrow Airport, Kensington Palace said they have not made any request to have planes diverted during the day, meaning broadcasters may battle with sound at some points.
WHO'S PAYING?
The wedding will be paid for by the royal family, with the couple to pay for the cost of Meghan's dress. Security will be a public expense, hence the effort to make the event inclusive for as many people as possible.
Wedding website Bridebook predicts the cost could be an eye-watering $58 million — earning it a place in the top 10 most expensive weddings of all time.
THE HONEYMOON
The couple will go on honeymoon, but not straight away. Their first working engagement falls the week after the wedding.
WHAT ELSE DO I NEED TO KNOW?
Details about the wedding rings, jewellery and the official title the couple will be known as have not yet been revealed — although it's expected to be the Duke and Duchess of Sussex.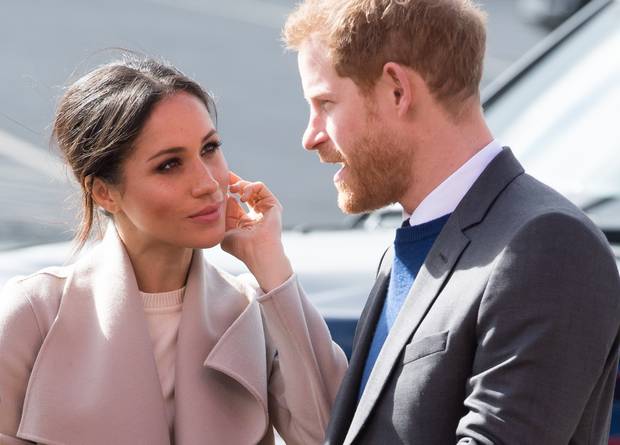 What guests will be eating and drinking at the reception, who will be playing and what the venue might look like inside have also been kept under wraps.
This article was first published on nzherald.co.nz and is republished here with permission.