Christmas tree cheeseboard pull apart bread recipe
Publish Date

Monday, 18 December 2017, 8:30AM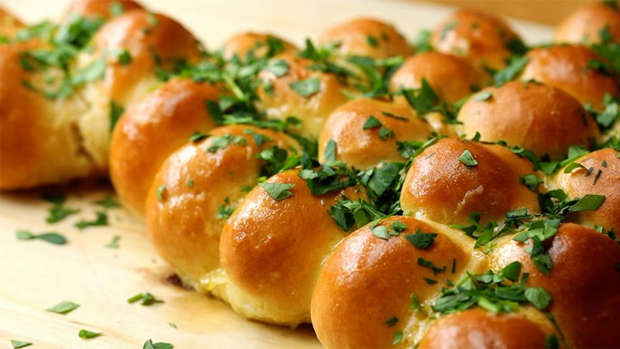 What You'll Need:
A cheeseboard of your choice - we used 200g red leicester, 1 camembert, 200g gruyere, 200g cheddar
500g fresh bread dough
200g garlic butter
Handful chopped parsley
How You Make It:
Preheat the oven to 180°C/360°F,
Take each block of cheese and cut into equal sized squares.
Take a small handful of the dough and press into a small disk. Place the cheese in the middle and bring up the sides to seal in, then repeat with the rest of the cheeses and dough.
Arrange your dough balls in a Christmas tree shape on a lined large baking tray.
Bake for 20 minutes, until the bread is golden and cooked through.
Serve brushed with garlic butter and sprinkled with fresh parsley.