Bridge backed by architect
Publish Date

Wednesday, 13 January 2016, 12:28PM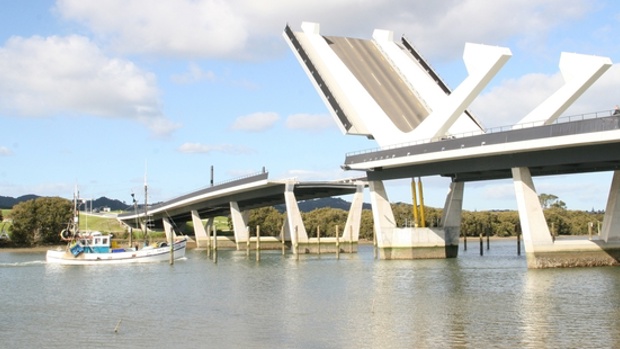 The man who designed Whangarei's faulty but award-winning Te Matau a Pohe Bridge is standing by his structure, as the district council investigates how the bridge can be operational in all weather.
Which parts of the $28 million bascule bridge are expanding in the heat, remains the key issue, with the bridge unable to operate at times when temperatures spike above 26C.
But when it opened for the first time in 2013, English architect Martin Knight said it was among his finest creations, and he is now standing by his design, despite the issues.
"Every large bridge is a unique and bespoke structure designed to fit its environment ... however movable bridges are among the most complex and challenging of structures and, like any large mechanism, require ongoing maintenance and tuning during their operational life, including the first few years," Mr Knight said in response to an incident which saw the bridge stuck open for two hours on December 12.
Mr Knight told the Northern Advocate the design and construction of the bridge had taken high summer temperatures into account, "but there may be other contributory factors about which it is impossible for us to speculate, certainly from the depths of a British winter," he said.
Following the December incident a one-metre wedge of concrete was shaved off Te Matau A Pohe, costing up to $10,000, though it was not yet clear who would foot the bill.
Over the past two summers about $25,000 of repairs have been carried out to get the bridge operational in all weathers.
When the Advocate exposed the problem in January 2014 Whangarei District Council roading manager Jeff Devine said the bridge's unique design is partly to blame.
"The bridge is expanding in those high temperatures more than we allowed for. It's the first bridge of its type that's ever been built in the world and we are still working out how to use it," Mr Devine said at the time.
He said steel bridges naturally expand in hotter weather and contract in cooler times and when the engineers were designing Te Matau a Pohe they allowed a 50mm gap for expansion. But, it was found that this was not enough and there was a risk of the bridge jamming if the temperature is too high.