McDonald's introduces phone lockers to encourage people to put away their phones
Publish Date

Tuesday, 17 October 2017, 10:30AM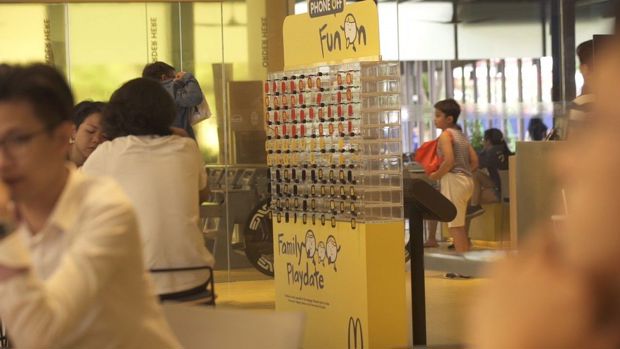 When was the last time you were in the middle of having a meal with someone who spent the whole time on their phone?
McDonald's totally understands this issue and has introduced mobile phone lockers in one of it's Singapore stores, attempting to get customers to put away their phones.
The store which is located at Marine Cove is targeted at families, and they're trying to encourage kids and parents to put away their phones. 
It's no surprise though, that people seem to be choosing Instagram over family time! 
We're thinking a locker for 100 people might be just a little ambitious, can you think of 100 people who would ditch their phones at the dinner table, cause we certainly can't,
They also tried this initiative to get people to "park" their phones in the corner of their tables for the duration of their meals, but it doesn't look to be doing very well... 
According to a survey by McDonald's Singapore, which interviewed 302 parents, found 72 percent of children, and 69 percent of parents use their smartphones during mealtimes.
We'll check back again in a few weeks to see if the new campaign is doing any better, but to be honest, we're not gonna hold our breaths.