The royal wedding photographer reveals his clever trick for keeping children on their best behaviour
Publish Date

Saturday, 19 May 2018, 11:03PM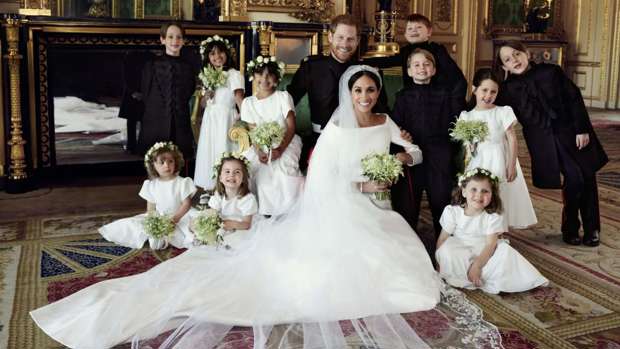 With six bridesmaids and four page boys all under the age of eight, it's safe to say royal wedding photographer, Alexi Lubomirski, had his hands full over the weekend!
And luckily for us, Lubomirski - who also had the unique privilege of shooting Meghan Markle and Prince Harry's engagement portraits - has revealed his "bribe" for keeping the young bridal party on their best behaviour.
That's right, it wasn't just pure luck when he snapped the stunning picture of the bride and groom with their pint-sized bridal party.
Instead, he looked to Prince George and Princess Charlotte's nanny for guidance.
Speaking to The Telegraph, the fashion photographer revealed the royal nanny, Maria Borrallo, uses Smarties as a reward if the children behaved.
"They were being bribed with one Smartie here, one Smartie there," Lubomirski recalled. "So, as soon as the kids came onto the set, I immediately just shouted out 'Who likes Smarties?' and then everybody, hands up, smiles, even some adults put their hands up."
He also opened up about the intimate black and white photograph of the Duke and Duchess of Sussex on the steps of the Windsor Castle terrace.
Lubomirski - who had just "three and a half minutes" to shoot the couple alone - said he captured the couple in a moment of "exhaustion".
"We went out there and had about three and a half minutes to take some quick shots because everything was running like clockwork," he shared.
"It was just one of those magical moments when you're a photographer and everything falls into place. I said 'Just before you go in, sit on those stairs'."
"And she just slumped between his legs and there was this moment where they were just laughing because they were exhausted and thinking finally it's all over. It was one of these beautiful moments."
READ MORE:
• Meghan Markle conforms to royal protocol on first official appearance as the Duchess of Sussex
• Here's how Meghan Markles's wedding compared to Princess Diana's and Kate Middleton's...
And the 42-year-old photographer was determined not to make the pictures too "regimented and linear".
He told the BBC: "I didn't want it to feel like a sports team photo or an army photo, regimented and linear.
"So we talked about how we could break it and get some rhythm and asymmetry into it and it all came down to very little tiny things - nothing crazy.
"In terms of how were placing people - we wanted some people sitting, some people standing, kids on parents laps and that was a huge thing to get that realness out of it."