Wedding guest furious at wealthy bride and groom's outrageous requests
Publish Date

Wednesday, 7 February 2018, 2:00PM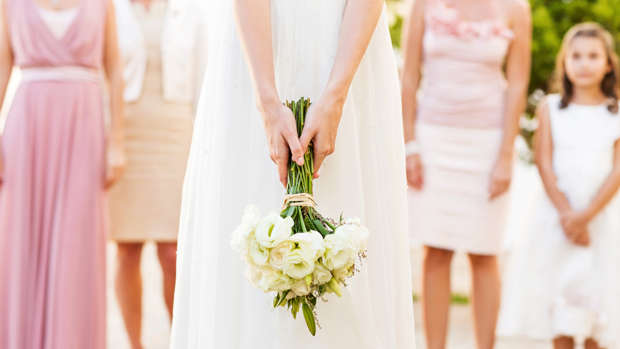 For the bride and groom, forking out to tie the knot can be one of the most expensive days of their lives.
However, one wedding guest has complained her friends' demands are so excessive, their big day could cost her an eye-watering £1,600 (NZ$3000), the Daily Mail reports.  
Taking to British discussion forum Mumsnet, the woman told how they had been invited to the stag do (and pay for the groom's share), attend the wedding abroad, as well as a gift list starting from £100 (NZ$190). 
Slamming the couple's demands, the frustrated mother believed to be from the UK, begged fellow parents for advice - and was soon inundated with calls to decline the wedding invite altogether.
Kicking off the thread, the frustrated 24-year-old shared the thread entitled: "Bride and Groom expecting a lot". 
She wrote: "My partner and I are invited to a wedding abroad in June (my other half is an usher – unexpectedly I might add – he is one of eight others!)"
Complaining that the wedding was being held "in the middle of nowhere", she added: "Perhaps I'm wrong as this is the first time either myself or my partner have been invited to a hen/stag, but I thought the norm was for everyone (including the groom) to pay for themselves?"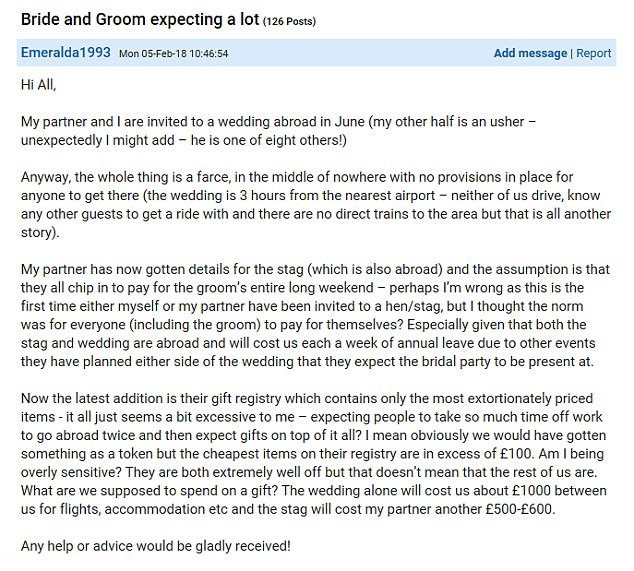 Adding that she was also expected to take a week of annual leave for events surrounding the actual wedding, she continued: "Especially given that both the stag and wedding are abroad and will cost us each a week of annual leave."
She added: "Now the latest addition is their gift registry which contains only the most extortionately priced items - it all just seems a bit excessive to me.
"I mean obviously we would have gotten something as a token but the cheapest items on their registry are in excess of £100. Am I being overly sensitive?"
The frustrated wedding guest explained that the whole trip was likely to amount to £1,600 altogether.  
Concluding her rant, she pleaded: "Any help or advice would be gladly received!"
And her plea didn't fall on deaf ears, with angry readers rushing to her aid with advice.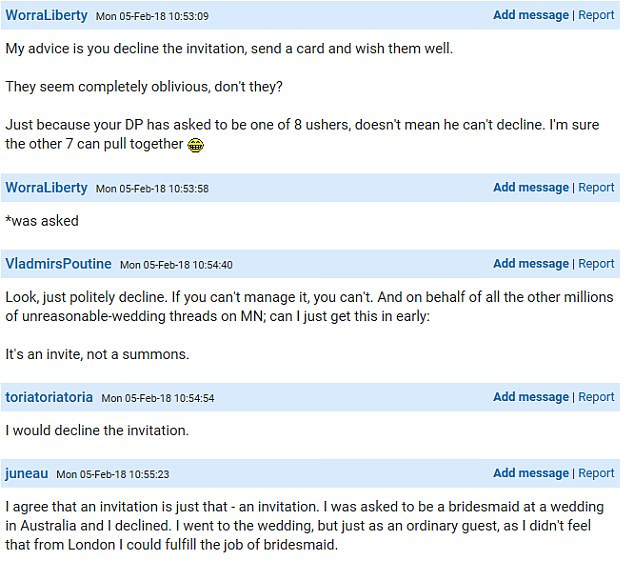 One reader didn't mince her words, advising: "I would send my apologies and go enjoy a nice 2 week holiday at a location of your own choosing. Treat yourselves with a £100 bottle of bubbly".
Another slammed the trend for weddings abroad, branding them "unnecessary and narcissistic". 
"Unless people have family abroad I don't get the trend for having weddings abroad. Its just so unnecessary and narcissistic," another wrote. 
Weekfour wrote: "Don't feel bad. I've declined a wedding and two baby showers this year. It was really quite empowering."
Mummmy2017: "Someone we know is doing a week abroad, somewhere we DON'T want to go. Not said no yet, but I have seen this person four times in five years... not going."
Petbear added: "I've just noticed that you said THEY are extremely well off. SORRY. YEAH, I would decline it all."
This article was first published on Daily Mail and is republished here with permission.