NZSAS fake says he was 'stupid' to pose as elite soldier
Publish Date

Tuesday, 2 May 2017, 9:14AM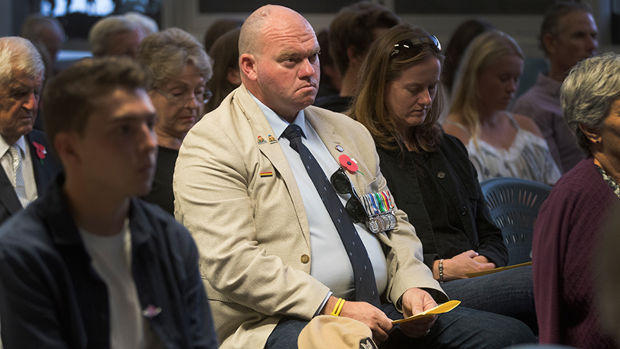 The "wannabe" elite soldier who turned up at an Anzac Day as a NZSAS trooper has admitted he is a fake and has spoken about being a military imposter.
"I was very stupid," Rob Clark, 43, told the Herald. "I'm well aware I may be prosecuted."
He also admitted he had allowed people to think for years he was in the elite military unit when his military record was a few years in the NZ Army in the early 1990s and no postings abroad.
Clark, 43, of Kaukapakapa, was photographed attending the Takapuna Grammar dusk service on Anzac Day with a NZSAS beret, regimental tie and a rack of 15 medals showing service around the world.
He also wore a copy of the United States Navy Presidential Unit Citation - upside down.
The award was presented to those members of the NZSAS serving in Afghanistan from October 2001 to March 2002 for "extraordinary heroism and outstanding performance of duty in action".
But the award was as fake as the image Clark portrayed on Anzac Day.
Clark said the presidential citation was knocked up by a mate during a drunken evening.
The friend had said "he could make them in his basement and produced two on the spot".
He claimed the tie had been given to him years ago and other details around the image he presented at the Anzac Day service were able to be bought online.
Clark claimed it was the first time he had turned up wearing the medals and carrying the beret but admitted he had spent years allowing people to think he had service with the NZSAS.
Clark said: "If you say you're a 'trooper' then people automatically assume you're in the SAS."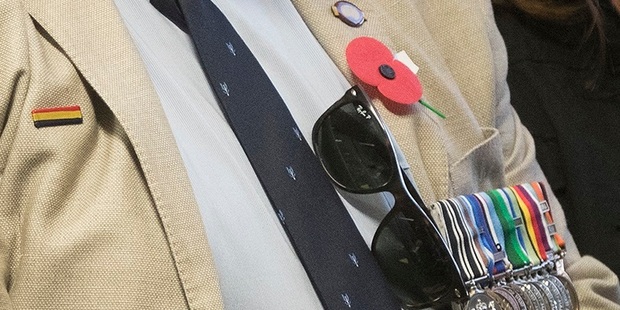 Rob Clark, 43, of Kaukapakapa, has admitted he wore medals he hadn't earned and - on the left - an award for bravery given by US President George W Bush. Photo / Brett Phibbs
He said the term "trooper" was one people associated with NZSAS soldiers and he had done nothing to clear up the confusion "over the years".
"I've never lied about my service. People have just gained an assumption. You say you're a 'trooper' and people go away and that's when the Chinese whispers start."
He said the medals showing his service had cost around $700 and he had bought them from NZ Medals Ltd, which trades in real and replica medals including offering a service to have them correctly mounted.
Clark claimed he presented himself as a NZSAS soldier as part of an elaborate scheme to expose what he called profiteering from the sale of medals and military equipment online.
He said he had eventually intended to write a book about it.
This was a different story than what he told the Herald on the weekend - that he was entitled to wear the medals and wasn't "at liberty" to reveal details of his service. He went on to insist he had served with the NZSAS.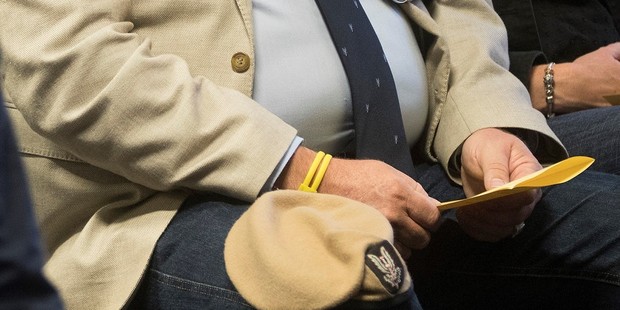 The NZSAS beret Rob Clark took to the Takapuna Grammar Anzac Day service. Photo / Brett Phibbs
By then, NZDF had confirmed his service record as limited to a few years in the early 1990s with no overseas service.
On Saturday, Clark insisted NZDF's records were wrong.
Yesterday, though, he said he was so upset at the medals trade he decided to appear at the parade wearing them and possibly write a book about it in the future.
However, he admitted he had never tried to address the issue by making a complaint to NZDF, the RSA or any other organisation.
"Some people will judge what I've done as being wrong, but sometimes you have to stand up and take some hits on the chin to prove there are others out there that don't have moral fibre in them."
NZ Medals Ltd owner Aubrey Bairstow identified 15 medals on the fake rack which covered service from Sinai in 1992 to Afghanistan in 2002. The claimed service between times included the former Yugoslavia, Timor, Solomon Islands and Iraq.
He said he couldn't recall selling the rack but generally tried to be "very careful who we supply them to". Older medals and replicas - often sought after by family of those who served - could be checked against online service records.
"Unfortunately, it's not possible to verify modern service, particularly if they say they'd served with the SAS."
The act of wearing medals which have not been earned is prohibited under the Military Decorations and Distinctive Badges Act 1918. The law says a maximum $500 fine and up to one month in prison can be imposed.
There is only one known conviction under the Act and that was former Otaki Returned and Services Association president Don Moselen, who wore three medals he hadn't earned to Anzac Day parades.
Colin Robertson was one of those who drove the 2012 prosecution and said efforts had been made at the time to have the Minister of Defence update the law. Not only does the NZ law have contradictions in it, Australia and the United Kingdom have adopted higher penalties.
RSA national president Barry "BJ" Clark said the organisation was planning to ask new Defence Minister Mark Mitchell to improve the law.
"I want to see if we can more clearly have it defined as a criminal offence. I find anyone who does this offensive."
This article was first published on NZ Herald and is republished here with permission.